New Mexico soccer coach booted for praying vows to play on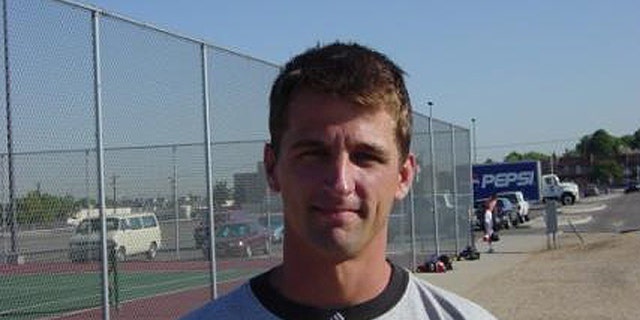 A successful New Mexico high school soccer coach who claims he was forced to resign after praying for an injured opponent is in the market for a new team, he told FoxNews.com.
Tom Hirschman, a special education teacher at Eldorado High School in Albuquerque, said he was told to resign last month for violating district policy twice, most recently during a match in September in which the Albuquerque Public Schools' 2010 girls coach of the year prayed with an opposing player after she was injured. The nine-year coach also violated district policy last year, he said, for watching two movies — "Soul Surfer" and "Forever Strong" — with female players that featured religious themes.
"I had not gotten administrative approval to show them because they had religious overtones," Hirschman told FoxNews.com. "That was their objection."
Hirschman, 42, continued: "Three years ago, I was up for the national coach of the year award and to move from that to being forced out, it's hard to take."
Rigo Chavez, a spokesman for Albuquerque Public Schools, told FoxNews.com that "other issues" involving Hirschman led to an investigation. He did not elaborate, but added that Hirschman was not asked to step down.
"No one asked him to resign," Chavez said.
Parents of students at the school were informed of Hirschman's resignation in a letter dated Nov. 5, citing "allegations of inappropriate conduct and comments" that were not criminal or sexual in nature.
"Upon the conclusion of the investigation, Mr. Hirschman chose to tender his resignation as the head girls soccer coach," read the letter, which was obtained by FoxNews.com.
[pullquote]
Hirschman, meanwhile, will stay at the school "for now," but said he is considering coaching elsewhere now that he's been booted from the Eagles' sideline.
"I would consider myself a soccer coach who also teaches," he said. "But it's not about me, it's about the kiddos. It's absolutely hard to leave."
Hirschman said he was surprised that something as seemingly innocuous as praying with an injured player has come back to haunt him, referencing the incident earlier this season in which he says an opposing player affirmed his request to pray with her.
"Literally, she did not move an inch, she was laying out on her face," he said of the injury. "It was pretty scary … Our girls pray before every single game, but it's student-led. So I went ahead and asked if I could pray with the team and I ended up asking the athlete herself if I could pray with her and she said yes. Who knew it would come back to be a big deal?"