New Jersey girl, 14, hospitalized after eating marijuana-infused gummy bear, police say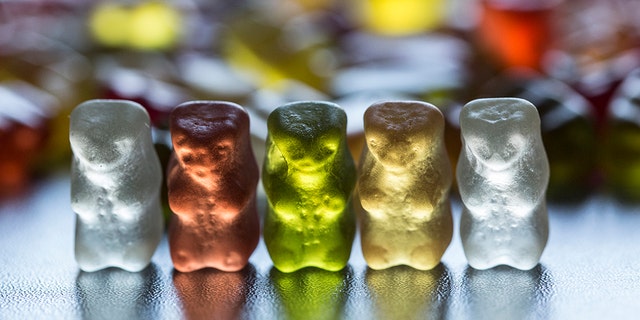 A New Jersey teen who ate a marijuana-infused gummy bear was later hospitalized because the edible made her sick, police say.
The 14-year-old girl, who has not been publicly identified, was given the gummy bear by her 13-year-old classmate, according to NBC New York, citing officials with the Fair Lawn Police Department.
NEW JERSEY WOMAN ACCUSED OF BURGLARY FLIPS BIRD IN MUGSHOT
The classmate apparently told the teen the edible would "stop her from stressing out."
But shortly after consuming the gummy bear, the teen vomited "numerous times" before she was transported to Valley Hospital. There, hospital officials confirmed the candy was indeed a marijuana edible.
The 13-year-old who gave the gummy bear to the teen will be charged on a juvenile petition in family court, Fair Lawn Police said, according to the news station.
NEW JERSEY WOMAN REPORTEDLY LEFT 'SHAKING AND CRYING' AFTER LOST NECKLACE WITH MOTHER'S ASHES IS DISCOVERED
Though it wasn't currently clear how the 13-year-old came into possession of a marijuana edible, witness interviews resulted in the arrest of 48-year-old Jeffrey Klein, who was charged with possession of hashish under 5 grams, NBC New York reported.
After conducting an investigation, police also found out additional edibles were given to other students during the school day, according to the news station, which did not specify where the alleged incident occurred.