New images of double-life dead mom 'Kitty Kat West' show her buying whiskey, absinthe on last night alive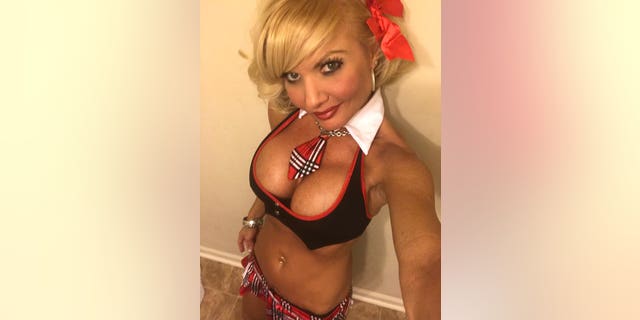 An Alabama mom who moonlighted and posed in scantily-clad photos as adult performer Kitty Kat West was seen laughing with a man at a liquor store while buying whiskey and absinthe in the hours before her death, according to video footage that surfaced this week.
Kathleen Dawn West, 42, was later found dead outside her home by a neighbor's daughter in Calera on Jan. 13. She was wearing only a sports bra, despite temperatures being in the low 30s, with blood dripping out of her head, AL.com reported, citing a witness.
"They came in, it looked like they were on their date night," Stacey Oglesby, a liquor store clerk told Inside Edition as she recalled last seeing West. "They bought a bottle of Jameson and a bottle of Lucid absinthe and made their purchase and went on their way. Everything was normal."
Footage obtained by the TV show depicted West, the mother of a 12-year-old daughter, laughing and smiling as she browsed R & R Wine and Liquor's aisles.
The man seen walking alongside West in the footage was not immediately identifiable.
Her husband Jeff, an unsworn campus police officer at Birmingham Southern College, posted on Facebook the family wants to mourn privately, according to Inside Edition. Neighbors told AL.com that West and her husband kept to themselves.
Sean Lemley, Calera's police chief, said West's death was being treated as a homicide, but he has not revealed the cause of death, AL.com reported. Since then, police have kept quiet about the case and have not made any arrests.
At the scene, a cell phone was found nearby with a green liquor bottle on top, as if it had been placed there, a witness also told the news website.
On social media, West presented herself as a stay-at-home mom and an adult performer.
Her Twitter and Instagram accounts, under the name of Kitty Kat West, featured revealing photos and directed viewers to her $15.99 per subscription adult website.
She was also a member of "The Cougar Club" Facebook group for women over 35, a place to "spread the word that a Cougar is beautiful, intelligent and classy," Inside Edition reported.
Sandie Kay, a member of the Facebook group, said the West she knew was a loving mom who was giving and "always had a smile.
"[She] was extremely supportive of every woman she was in contact with," Kay said. "She was beautiful and loved being photographed."
Nancy Martin, identified by AL.com as West's mother, posted on Facebook that the family is asking for prayers.
"God wants to encourage us and relieve our suffering if we will just go to him at all times," she wrote. "And his word is powerful enough to bring healing and solace even during our darkest hours."
A private funeral was held for West on Monday.