New generation of Americans are rushing to the gold mines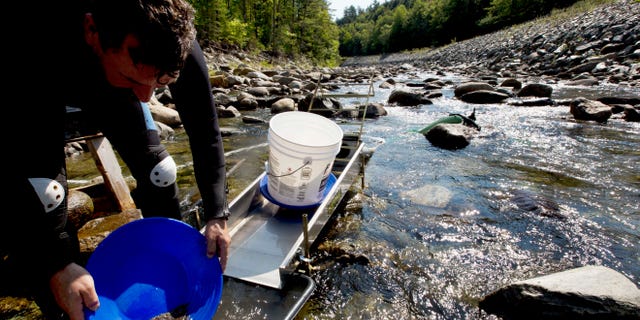 PLYMOUTH, Vermont – Al Davis Jr. cracks a smile as he spots a speck of gold glittering in a plastic pan full of muck pulled from a Vermont brook, revealing a gold tooth made from some earlier finds.
Davis, decked in waders and wearing a hat festooned with a tiny bottle filled with gold flakes, is part of a community of prospectors who number around 3,000 in New England.
Often equipped with little more than a shovel and a pan, they can be found knee-deep in streams and rivers on most summer weekends in places like Plymouth; Byron, Maine; and Bath, New Hampshire.
"There is something magical about it. You always keep coming out because you want to see if you can beat the one you got," said Davis, who has been mining for nearly half a century. "Can I get one a little bigger?"
But these days, the rivers Davis and other aging prospectors once had to themselves are getting more crowded, they say, as a younger generation of miners in the Northeast and Pacific Northwest gives prospecting a try. Old-timers are seeing new clubs on Facebook and people taking gold mining classes. Some newbies are turning to mechanized mining means, raising environmentalists' hackles.
Miners attribute the growth to people seeking more solace in the outdoors, to shows like "Gold Rush" and "Yukon Gold" that make mining seem adventurous and profitable, and to history buffs who want to trace the Appalachian gold belt, which stretches from South Carolina to Nova Scotia and sparked a gold rush in the 1800s.
Then there was Tropical Storm Irene, which hit Vermont in 2011. It sparked a gold frenzy after reports surfaced that the storm had disgorged precious metal into streams.
"It was a true gold rush," said Nelson Illinski, panning recently within shouting distance of Davis on the Buffalo Brook in Camp Plymouth State Park with his wife, Ashley, and their 2-year-old son, Shane.
Illinski, in many ways, represents the younger generation of miners. A mix of rugged outdoorsman and Brooklyn-style hipster, the 39-year-old from Arlington, Vermont, runs a Facebook page about gold mining in the state and teaches a class that has attracted 300 people the past two summers.
"It's no longer like a hobby for most of us. It's become an obsession," Illinski said. "It gives you a rush to know that people have been digging gold for 200 years and you found a piece they missed."
While miners have traditionally panned for gold, though, more are turning to machinery. Tools include motorized suction dredges that vacuum up materials on the river bed and filter-like sluice boxes that capture gold and discard the rest.
Concerned about environmental effects, California last year banned suction dredging. Oregon in January enacted a five-year moratorium on dredging, and environmentalists are pushing for something similar in Washington. Maine and Vermont have also put limits on dredging.
Miners in the Northeast have mostly made peace with the current limits. But even those like Illinski, who traded his metal detector for a pan about a decade ago, fear all miners will eventually get caught in the kinds of battles playing out West.
"We worry that the federal government is going to come and say you can no longer use the land for these lands for that kind of thing," he said. "That scares me more than anything — that all of sudden the land we pay taxes on, that belongs to us, will be taken away."