Nevada marijuana supply running low, state of emergency declared, governor says
NEWYou can now listen to Fox News articles!
Nevada state officials declared a state of emergency after stores that sell recreational marijuana reported that their supply is running out just less than two weeks after the drug went on sale legally.
Gov. Brian Sandoval, R-Nev., issued the state of emergency on Friday, which will allow state officials to decide on new rules that could ease the shortage of marijuana, according to Fox 13 Now.
Nevada's Department of Taxation released a statement that said it will contemplate emergency regulations that would permit liquor wholesalers to cash in on the marijuana sales.
"Based on reports of adult-use marijuana sales already far exceeding the industry's expectations at the state's 47 licensed retail marijuana stores and the reality that many stores are running out of inventory, the Department must address the lack of distributors immediately," the Department of Taxation said in a statement. "Some establishments report the need for delivery within the next several days."
RETRIAL BEGINS FOR FOUR BUNDY SUPPORTERS FROM 2014 ARMED STANDOFF
In November, after the law legalizing marijuana in Nevada was passed, liquor distributors were promised that they would have the sole rights of moving the drug for 18 months, but the department said many distributors did not meet the requirements needed in order to be licensed.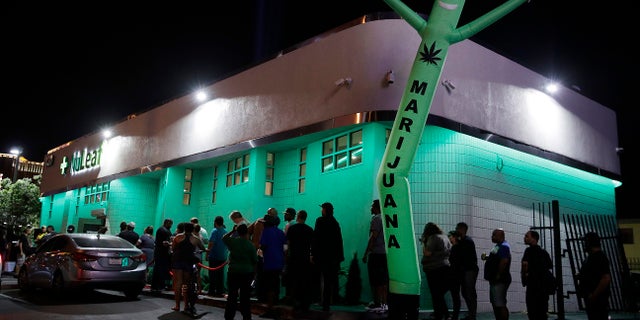 "We continue to work with the liquor wholesalers who have applied for distribution licenses, but most don't yet meet the requirements that would allow us to license them. Even as we attempted to schedule the final facility inspection for one of the applicants this week, they told us their facility was not ready and declined the inspection. As of mid-day Friday, not one distribution license has been issued," Stephanie Klapstein, a spokesperson for the Department of Taxation, told USA Today.
The dispensaries that were originally allowed to retail medical marijuana can now sell recreational marijuana as well and, by law, must be given the drug from a licensed distributor. But many of the facilities have been left with a diminishing supply.
TOURISTS, LOCALS BUY NEVADA'S LEGAL RECREATIONAL MARIJUANA
"The business owners in this industry have invested hundreds of millions of dollars to build facilities across the state," the Department of Taxation's statement continued. "They have hired and trained thousands of additional employees to meet the demands of the market. Unless the issue with distributor licensing is resolved quickly, the inability to deliver product to retail stores will result in many of these people losing their jobs and will bring this nascent market to a grinding halt."
Nevada voters approved to legalize recreational pot in November. The state joined Colorado, Oregon, Washington and Alaska in allowing adults to buy the drug that is banned by the federal government.
To buy, those 21 and older with a valid ID and purchase up to an ounce of pot at dispensaries. The drug can only be consumed in a private home, not in public, including the Strip, hotels and casinos. Violators face a misdemeanor citation and $600 fine.
The Associated Press contributed to this report.