A Navy sailor charged with storming the U.S. Capitol was stationed on an aircraft carrier in Virginia when he joined a mob's attack on the building, according to a court filing Monday.
The FBI arrested David Elizalde on Sunday in Arlington, Virginia, on misdemeanor charges, including disorderly conduct in a Capitol building, according to a court filing.
Elizalde told the FBI that he was stationed on the USS Harry S. Truman when he drove alone from Norfolk, Virginia, to Washington, D.C., to attend the "Stop the Steal" rally on Jan. 6, 2021. Then-President Donald Trump addressed a crowd of supporters before the mob attacked the Capitol, disrupting the congressional certification of President Joe Biden's 2020 electoral victory.
JAN. 6 RIOTER 'QANON SHAMAN' JACOB CHANSLEY SECURES EARLY RELEASE FROM PRISON TO HALFWAY HOUSE, LAWYER SAYS
Videos show a man matching Elizalde's description holding a flag when he entered the Capitol through the Senate wing doors and leaving the building about three minutes later through the same doors. Elizalde said he heeded a police officer's command to leave the building but lingered outside "to observe the scene for a little while because he knew something historic was happening," the FBI said.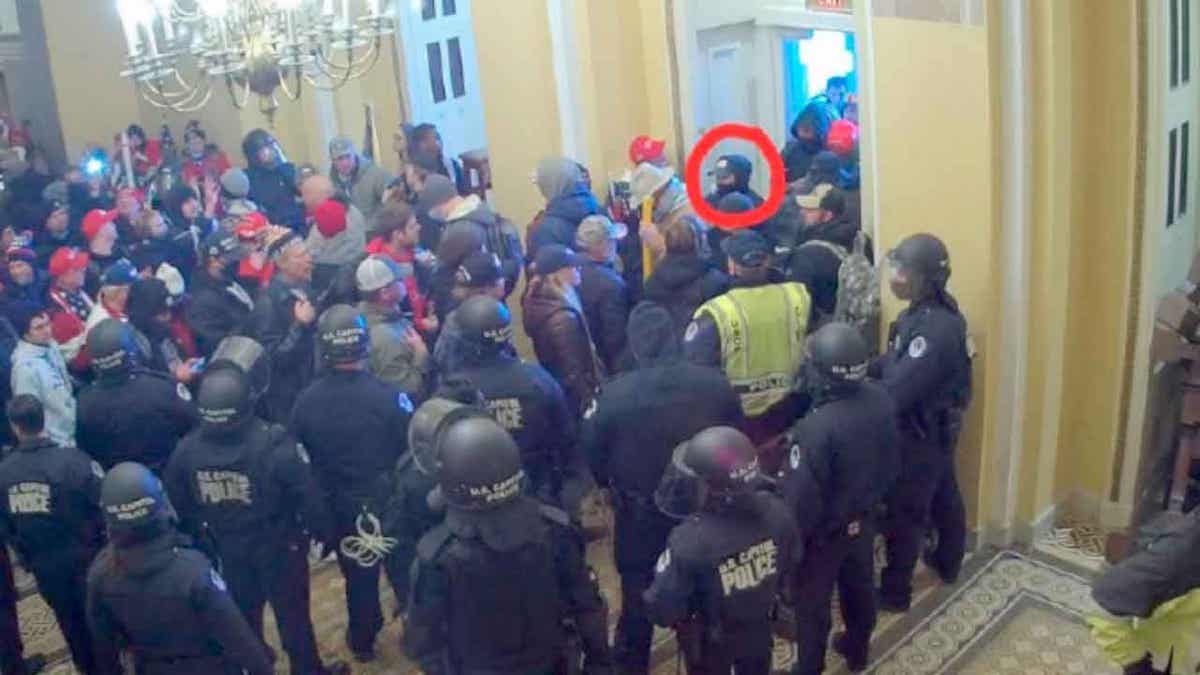 Elizalde, an aviation structural mechanic, was an active-duty sailor on the day of the Capitol riot, according to a Navy Office of Information spokesperson. The Texas resident enlisted in June 2007, and also has served on the USS Dwight D. Eisenhower aircraft carrier, according to Navy records.
FORMER LAWYER FOR 'QANON SHAMAN' SAYS JAN. 6 FOOTAGE WASN'T SHOWN TO CLIENT, CALLS PRISON SENTENCE A 'TRAGEDY'
Federal agents interviewed Elizalde at a Naval Criminal Investigative Service office on Naval Station Rota, in Rota, Spain, in December 2021. He had reported for duty in Spain on Jan. 22, 2021, the Navy records say.
The complaint against Elizalde was filed under seal in February and made public on Monday.
Online court records didn't immediately name a lawyer representing Elizalde.
CLICK HERE TO GET THE FOX NEWS APP
Approximately 1,000 people have been charged with federal crimes related to the Jan. 6 riot. Many of them are military veterans, but only a few were on active duty at the time of the Capitol attack.
A Marine Corps officer was the first active-duty service member to be charged in the riot. Maj. Christopher Warnagiris, of Woodbridge, Virginia, was arrested in May 2021 and charged with assaulting an officer at the Capitol. Three other active-duty Marines were charged in January with participating in the riot.