Navy joins search for missing Florida teens
The Navy on Monday joined the hunt for two Florida teens who disappeared while fishing in the Atlantic, expanding a sea and air search that has already covered an area the size of Indiana
Searchers found one personal flotation device in the water alongside the capsized boat of missing 14-year-olds Perry Cohen and Austin Stephanos on Sunday. But additional Coast Guard and Navy operations throughout the night and into Monday morning haven't yielded any additional signs of the boys.
"We're continuing the search and we maintain the highest level of optimism going into this," Petty Officer 1st Class Stephen Lehmann said during an 11 a.m. briefing.
Cohen and Stephanos were last seen Friday afternoon buying $110 worth of gas before heading in the direction of the Bahamas to fish.
"We've got to believe in their wherewithal."
The boys' families are offering a $100,000 reward in the search.
The Navy destroyer USS Carney is joined by four Coast Guard vessels – an 87-foot cutter, a fast responder, a buoy tender and a response boat – as well as a C-130 searching by air.
Capt. Mark Fedor, the chief of response for the Coast Guard's 7th district, said at a Monday afternoon press conference that the boys could survive as long as four to five days in the warm ocean waters.
The boys' abandoned overturned 19-foot fishing boat was found Sunday morning about 67 miles off Ponce de Leon Inlet in Volusia County. Tequesta police told the Palm Beach Post that Coast Guard crews reported the "engine cover was found to be missing along with one personal flotation device still on the boat." It's unclear how many personal flotation devices were originally onboard the vessel.
"Any type of boat, any length of boat, no matter how experienced you are in the water, things can happen," Lehmann said. "Things befall even the most surefooted of mariners."
The boat remains capsized where it was found, as the Coast Guard is hesitant to remove assets from the search operation in order to tug it ashore.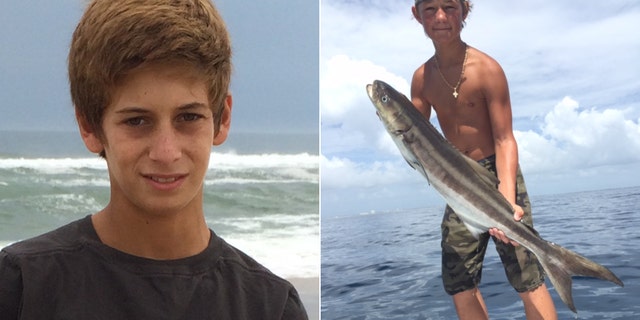 Hundreds of family members, friends and classmates took part in a Sunday night prayer vigil at Jupiter Christian School, where Stephanos has been a student since kindergarten.
NFL Hall of Famer Joe Namath, who is Perry Cohen's neighbor, said during a news conference that both the boys are experienced boaters.
Namath said, "We've got to believe in their wherewithal."
The Associated Press contributed to this report.