Navy in frantic search to find Marine who went overboard near Philippines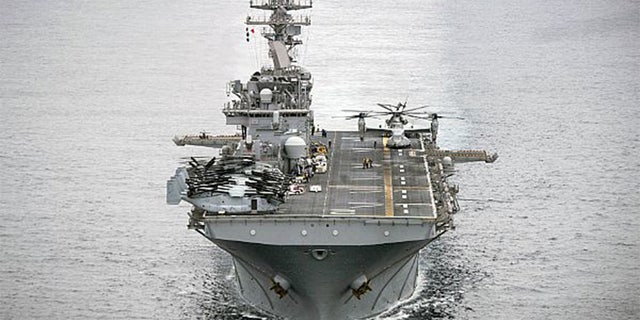 The Navy says there is an ongoing "all-hands effort" Friday to find a Marine who went overboard during operations in waters near the Philippines.
The U.S.S. Essex reported the Marine missing in the Sulu Sea around 9:40 a.m. local time Thursday and immediately started search and rescue operations.
"It is an all-hands effort to find our missing Marine," U.S. Navy Capt. Gerald Olin, commander, Amphibious Squadron One and the on-scene commander of the search and rescue operation, said in a statement.
"All of our Sailors, Marines, and available assets aboard the USS Essex have been and will continue to be involved in this incredibly important search and rescue operation," he added.
The Navy says the U.S. Marine Corps and their Philippines counterparts are also helping in the search.
"As we continue our search operation, we ask that you keep our Marine and the Marine's family in your thoughts and prayers," said Col. Chandler Nelms, Commanding Officer of the 13th Marine Expeditionary Unit.
Searchers say they have covered around 3,000 nautical miles so far and have gone looking through the amphibious assault ship multiple times.
The Marine's family has been notified, they said.
Fox News' Lucas Tomlinson contributed to this report.