Navy commissions destroyer named after SEAL from NY killed in Afghanistan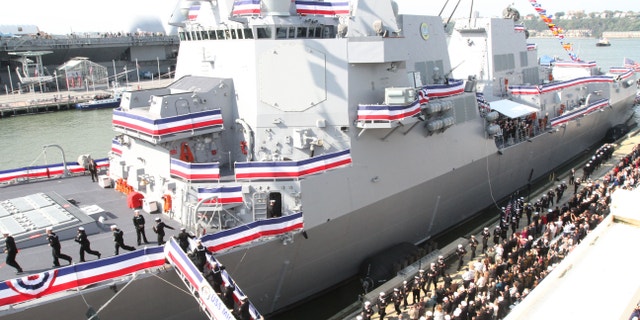 NEWYou can now listen to Fox News articles!
NEW YORK – In a ceremony that was more joyful than solemn, the U.S. Navy on Saturday commissioned the USS Michael Murphy, a sleek new warship named for a Navy SEAL who died in Afghanistan at age 29.
Cannons boomed, dignitaries spoke of heroism, and nearly 300 sailors charged up a ramp while a band played "Anchors Aweigh" as the destroyer sprang to life in a ceremony in New York Harbor.
"You are now our family, our team," the ship's commander, Tom Shultz, told Murphy's parents, before leading hundreds of visitors in a SEAL battle cry.
"Hooyah, Michael Murphy!" Shultz said, pointing skyward.
Murphy, a Navy lieutenant who grew up in Patchogue, N.Y., was posthumously awarded the Medal of Honor for his actions during a 2005 ambush. Military officials said that after his four-man team was surrounded, Murphy risked exposure to enemy fire so he could radio a base for help.
The helicopter that rushed to the rescue was shot down, killing 16 sailors and soldiers. Murphy died on the battlefield. Only one man in his squad survived.
The 510-foot ship bearing his name was draped in red, white and blue banners and festooned with flags for Saturday's ceremony on a pier on Manhattan's west side.
Navy Secretary Ray Mabus said the ship would guarantee that Murphy's story would be retold. U.S. Rep. Peter King heralded the young sailor for "unbridled courage." U.S. Sen. Charles Schumer recounted stories of how Murphy, since he was a child, had empathy for others.
The $1.1 billion warship, built at the Bath Iron Works in Maine, is to be based in Hawaii.