Nationwide Protests Mark Two Monts of 'Occupy'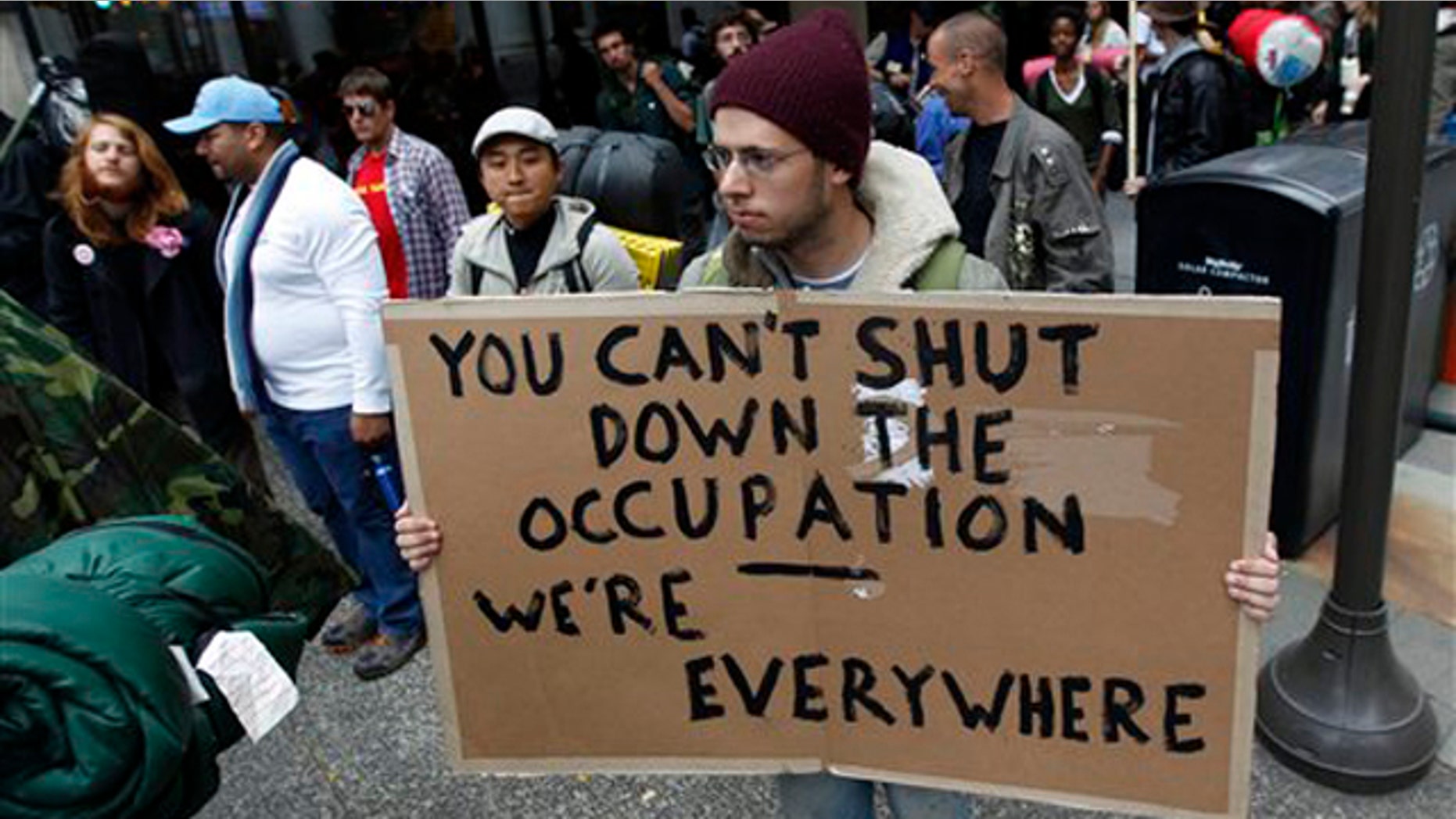 Nationwide protests, civil disobedience and arrests from California to New York City marked two months since the start of the "Occupy Wall St." movement Thursday.
Most prominently, some 1,000 to 2,000 protesters marched on the New York Stock Exchange in New York City with dozens of arrests made. But the movement's latest action, was, by no means, confined to Gotham, as "Occupy" gatherings sprouted at symbolic centers of power, whether bureaucratic or financial, across the nation.
Police in riot gear raided an encampment that began Tuesday night on the campus of the University of California, Berkeley.
Authorities removed about 20 tents erected in defiance of a campus-wide ban on camping out, and then followed-up by bulldozing the area.
There, police surrounded the 40 or so campers and gave them 10 minutes to gather their belongings and disperse, The San Francisco Chronicle reports.
A pair of campers stayed behind, and were collared.
Nearby, in San Francisco proper, dozens of protesters, reportedly mostly college students, were arrested during a sit-in at a Bank of America branch. Notably, inside the bank, the activists pitched a tent -- a symbolic reference to the means of shelter favored by "Occupy" followers around the nation -- and chanted, "Shame! Shame!" according to the San Francisco Chronicle.
In Seattle, Mayor Mike McGinn reportedly apologized on Wednesday for a Tuesday incident in which police pepper sprayed protesters, including an 84-year-old woman, a priest and a pregnant lady.
"To those engaged in peaceful protest, I am sorry that you were pepper sprayed," McGinn said in a statement reported on by SeattlePI.com. "I spoke to Dorli Rainey (who I know personally) to ask how she was doing, and to ask for her description of events."
In Los Angeles, about 500 protesters marched on the downtown area in sympathy with their New York brethren.
They gathered between the Bank of America tower and Wells Fargo Plaza, chanting, "Banks got bailed out, we got sold out."
Meanwhile, Dallas police rousted an "Occupy" camp from City Hall property early Thursday the morning, the Dallas Morning News reported.
The newspaper said that around midnight, police repeatedly asked over a loudspeaker for demonstrators to leave the encampment they've inhabited for approximately a month. Around 1:30 a.m., police moved in.
Eighteen people were arrested in Dallas, according to the newspaper.
In Portland, The Oregonian reports that "Occupy" protesters marched across a prominent bridge, briefly shutting down bus service across the span. Some reportedly held signs saying, "You Can't Evict This," and "Good Jobs Now."
Other actions of varying size and peacefulness took place in cities around the country.
The Associated Press contributed to this report.