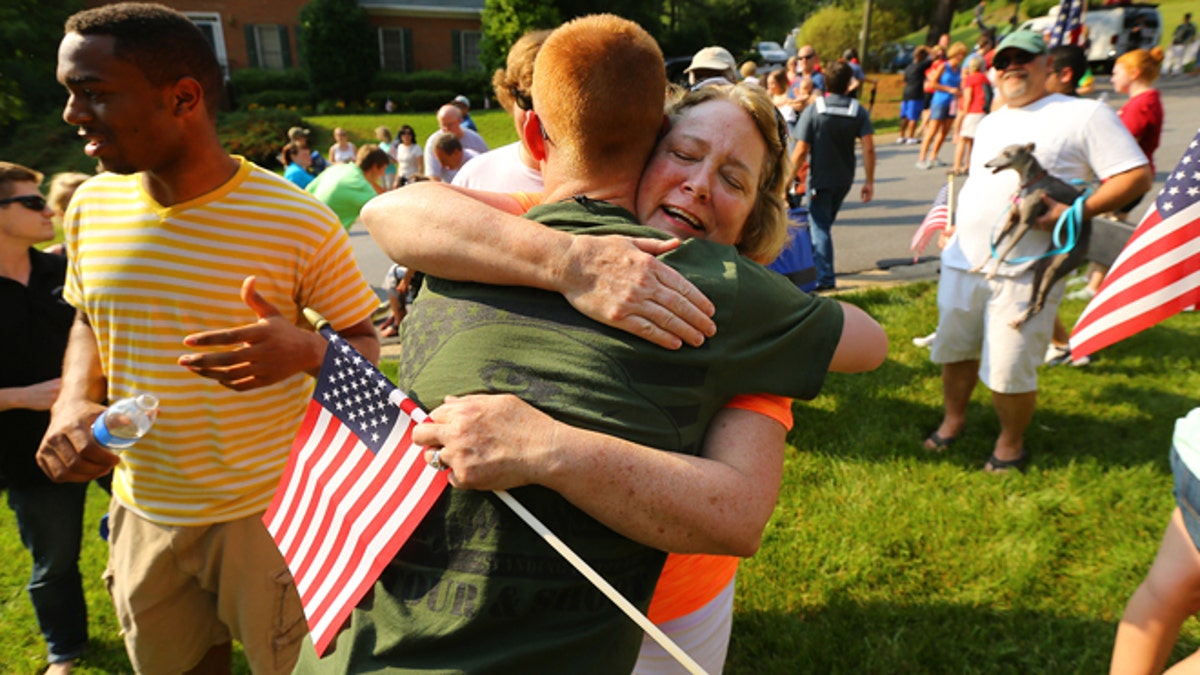 Across America, citizens are marking Memorial Day with ceremonies and parades honoring those who gave their lives in war, as well as with less solemn events like barbecues with family and friends.
Despite the day's solemn ethos, Petty Officer 1st Class Brian McNeal told the Associated Press that the fun events should be enjoyed.
"I'm in the service so that they can enjoy that," said McNeal, 39, who is stationed in Suffolk, Virginia, and was in New York for Fleet Week. "They made the sacrifice so everyday citizens don't have to worry about the evils of the world."
Monday is the climax of a weekend of events honoring America's military. On Sunday, Marine Corps chaplain Rear Admiral Margaret Kibben lauded the sacrifice of veterans around the world in a service at the Marble Collegiate Church in Manhattan.
"What they have done has allowed us to be here," Kibben told the the roughly 200 worshippers Sunday at the Marble Collegiate Church in Manhattan, including active duty servicemen and women. Memorial Day, she said, was a time to remind ourselves of the meaning of sacrifice and to put personal struggles and difficulties in perspective.
Also Sunday, President Obama arrived at Bagram Air Field in Afghanistan to speak with troops and visit soldiers being treated at a base hospital. At least 2,181 members of the U.S. military have died during the nearly 13-year Afghan war and thousands more have been wounded.
Obama has directed all government agencies in the United States to fly their flags at half-staff on Monday in observance of Memorial Day.
On Saturday, Democratic congresswoman Tammy Duckworth served as grand marshal of Chicago's Memorial Day Parade and struggled to hold back tears during a wreath-laying ceremony to honor fallen soldiers. She lost her legs and partial use of an arm when a rocket-propelled grenade hit the Black Hawk helicopter she was piloting in Iraq in 2004.
More than 300 Junior ROTC students from Chicago Military Academy at Bronzeville marched in the city's parade. Afterward, still dressed in their uniforms, they chatted, bantered and ordered ice cream from a vendor's truck while waiting for a bus that would take them back home.
Their instructor, 1st Sgt. Stephen Roberts, an Army veteran, said the students practice all year to march in the parade.
"They enjoy it a lot," Roberts said. "We tell them about it at the beginning of the year. Our rifle, our drum teams, our flags, they practice every day. They come in on their own accord. They do their own practices. It means a lot to them. They're very proud to do this."
In Massachusetts, Boston Marathon survivor Jeff Bauman and his rescuer, Carlos Arredondo, helped plant tens of thousands of flags Saturday at a cemetery to honor soldiers.
The Associated Press contributed to this report.