Murders of Indiana teen girls unsolved one year later as families recall when they vanished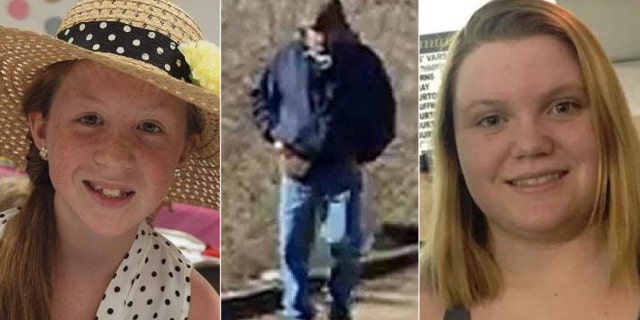 NEWYou can now listen to Fox News articles!
The unsolved murders of two young Indiana teens continue to haunt police who have been unable to track down the killer as one year has passed since their bodies were found in the woods.
On February 13, 2017, Abigail Williams, 13, and Liberty German, 14, disappeared after being dropped off at the Delphi Historic Trails, just after 1 p.m. After not responding for hours, the girls' families reported them missing and a small search party gathered that night to look for them, Fox 59 reported.
The bodies of the two girls were found the next day by a volunteer nearly a half-mile away from their last known location. An autopsy report later confirmed that the bodies were those of missing Abby and Libby, as their loved ones called them.
Local police only had a few clues to work from. Investigators had a pixelated image of a man walking the trails on the same day the girls went missing. The image was reportedly taken from one of the girls' cellphones. Tips poured in, but with no avail.
Police also recovered an audio clip from one of the girls' cellphones that they suspect might have been the killer. An unidentified man can be heard saying, "Down the hill."
As the investigation continued, police finally released a composite sketch of the suspected killer in July. Indiana State Police described the man as having reddish-brown hair, an unknown eye color, between 5'6" and 5'10" and weighing between 180-220 pounds.
A man in Colorado was arrested in September for allegedly threatening people on a trail with a hatchet, but Fox 59 reported that police told them that they were no longer pursuing the man as a lead.
On the one-year anniversary of their disappearance, the girls' families continue to struggle with the reality of these murders, but they remain hopeful that police will bring the killer to justice.