Murdered Conn. teen remembered with balloons and songs at candlelight vigil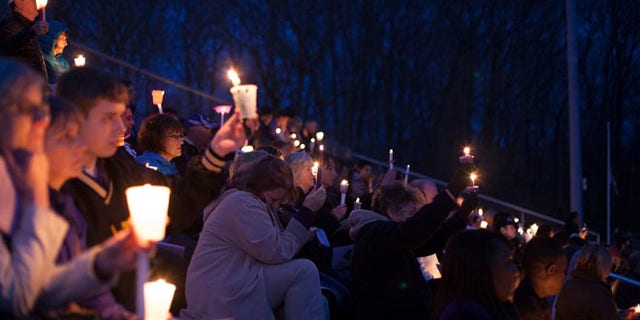 Classmates, friends and the governor of Connecticut gathered on a high school football field Monday night to remember Maren Sanchez, the teenager stabbed to death last week, and release purple balloons in her memory.
Connecticut Gov. Daniel P. Malloy called Sanchez a star, as well as inclusive, kind, talented and giving, adding she had accomplished much in her 16 years. He asked others to learn from her example.
The candlelight vigil at Jonathan Law High School, where Sanchez was a junior, also featured songs in her memory as well as the balloon release. Purple was her favorite color and could be seen in other tributes in Milford, including ribbons around trees near the school.
"I've cried almost every single day since her passing. This has been so hard on everybody," Jack Shuckerow, Maren's friend and classmate, told FoxCT.com.
Some of those tweeting from the memorial used the hashtag #MarenStrong.
Sanchez was stabbed to death, allegedly by another student, Friday morning inside the high school, just hours before she was to attend her junior prom with her boyfriend.
"It's just really heartbreaking to see something like this happen in your hometown, especially to a place you loved," said Amanda Awwad, 19, of Milford, who graduated from the school two years ago and dropped off flowers at a memorial in front of the school Monday.
The memorial started with a large rock spray-painted purple with her first name, birth date and a heart painted in white. It grew to include flowers, stuffed animals, balloons, candles and notes. People also were dressed in purple as they visited the site.
Students said the vigil was helpful and reinforced a sense of community.
"Just to see how she brought everybody together. Not a lot of people know her like that, but we knew of her. This is amazing. She is a beautiful, genuine and loving girl," Kasedi Xavier, a junior, told FoxCT.com.
Sanchez was a member of the National Honor Society who was active in drama and other school activities. Police said they're investigating whether the motive was Sanchez's refusal to be the prom date of the boy who was arrested.
Michael Mele, the school's drama director, said Sanchez was enthusiastic and upbeat with an infectious smile. She was involved in a show "Little Shop of Horrors" that will now open Friday dedicated to her memory.
"She was just was the epitome of a good kid," Mele said. "She's one of those kids you want every kid to be like her."
Other high schools have offered to help with the show. The first rehearsal since the slaying was planned for Monday.
The Associated Press contributed to this story
Click here for more from FoxCT.com.