Murder capital: Baltimore's homicide explosion in wake of Freddie Gray case dwarfs rate of similar cities
NEWYou can now listen to Fox News articles!
The double murder Thursday of a young mother and her 7-year-old boy brought Baltimore's bloody monthly homicide tally to 38, a figure that dwarfs that of similar-sized cities and even exceeds the total for the same period in New York.
"Criminals feel empowered now. There is no respect. Police are under siege in every quarter. They are more afraid of going to jail for doing their jobs properly than they are of getting shot on duty."
Jennifer Jeffery-Browne, 31, and her son, Kester, were found shot to death in their southwest Baltimore home, leaving friends and family heartbroken and city officials scrambling to reverse a tide of carnage that began following the racially-charged death of a black man in police custody. Police say the way City Hall and the local prosecutor handled the Gray case, which sparked several days of rioting and looting and led to the indictments of six cops, has handcuffed them and emboldened criminals.
"The criminals are taking advantage of the situation in Baltimore since the unrest," Lt. Gene Ryan, President of the Fraternal Order of Police Lodge 3, which represents officers in Baltimore, said in a statement provided to FoxNews.com. "Criminals feel empowered now. There is no respect. Police are under siege in every quarter. They are more afraid of going to jail for doing their jobs properly than they are of getting shot on duty."
With two days remaining in the month of May, the 38 homicides seen in Baltimore, whose population is about 622,000, is cause for alarm. Year-to-date homicides stand at 111, up from 71 for the same period last year, and this year on pace to be the Charm City's deadliest since 2007. If May's pace cannot be slowed, all bets are off.
Compared to other U.S. cities of similar size, the May homicide rate is truly staggering, according to data compiled by FoxNews.com. Nashville, Tenn., with a population of about 658,000, has only seen six homicides this month and 21 for the year so far. Louisville, Ky., whose population is about 20,000 less than Baltimore's, has only had three homicides for the month and 28 for the year.
Las Vegas (603,488) has recorded 12 homicides in May 2015 and 41 for the year; Denver, Colo., (663,862) has logged just two homicides this month and its yearly total matches Baltimore's monthly tally.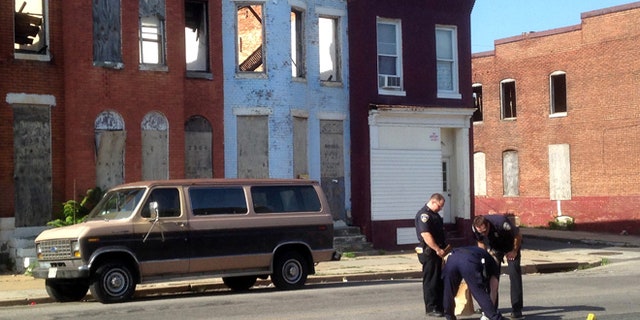 Boston, which has a population 645,966, has had just one homicide for the month of May and 15 for year-to date.
The largest city in the country, New York, has seen 30 homicides for the month as of May 28, and at 8.5 million, its population is nearly 14 times that of Baltimore.
Law enforcement experts say police cannot be proactive if they believe politicians and prosecutors are treating them unfairly. In Gray's case, the career criminal suffered fatal injuries while being transported in a police van. Baltimore City State's Attorney Marilyn Mosby, in announcing indictments that included murder charges against one of the of six police officers involved in the case, struck a tone that many in the police department considered anti-cop.
"This is going to be a fairly routine occurrence – double digit shootings, high homicide rates over the course of the next three months," said one Baltimore police officer, speaking on condition of anonymity to Fox News Channel's Sean Hannity earlier this week. "It's a definitely direct result of the indictment of the six officers. When you have officers out there… and those that are doing their jobs are indicted for murder… you couldn't help but have repercussions where police are afraid to go out there, that they are apprehensive about putting their hands on people…"
Police morale across the nation has reeled in the wake of several racially-charged incidents, including the shooting of an unarmed black man, Michael Brown, last August in Ferguson, Mo., followed by a grand jury's decision not to indict an NYPD cop in the death of Eric Garner and most recently the death of Gray.
"In case people ever needed a reminder, the increase in Baltimore's murder rate shows how important police are," John Lott, president of Crime Prevention Research Centerand a Fox News contributor said. "As police are worried about being called criminals themselves, the sudden increase stands in sharp contrast to how murder rates are changing in the rest of the country."