Mural honoring officers in Dallas police massacre removed due to code violations
A mural honoring the five Dallas police officers who were killed during a 2016 ambush attack was taken down Monday over city code violations, but a family member hopes the artwork can still be saved.
The large mural was painted on a fence with metal panels outside the Last Call Lounge in the city's Bishop Arts District located south of downtown, and paid tribute to the officers who were killed during an attack on law enforcement at a Black Lives Matter rally in Dallas on July 7, 2016.
"We got together with the artist, and the artist came up with this idea," owner Diana Paz told FOX4. "That's how it started."
Paz was issued a violation notice in May 2017, which said she failed to obtain a permit to use metal panels in the construction, and that the fence blocks visibility at a nearby four-way stop.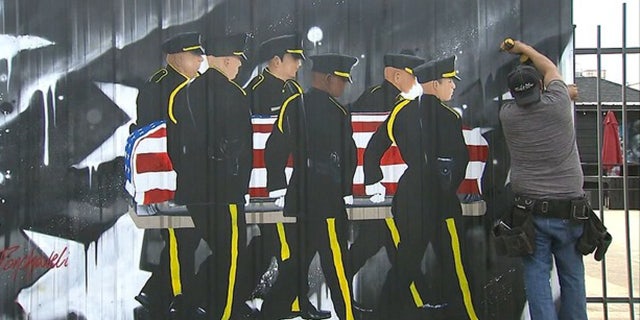 A city official on Tuesday told Fox News city compliance staff photographed the fence in June 2017 and documented the fence without the mural. The mural is believed to have been painted the next month, in July, after Paz had received the violation notice, according to Dallas Public Affairs Officer Corbin Rubinson.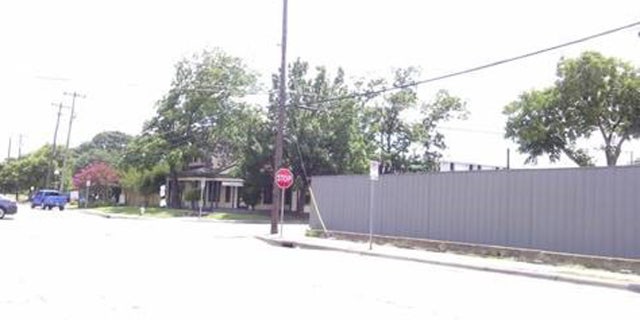 OUTRAGE AS DALLAS OFFICIALS THREATEN TO TEAR DOWN WALL HONORING FALLEN POLICE OFFICERS BECAUSE IT 'RUNS AFOUL OF REGULATIONS'
"We were in meetings and conversations with them," Paz told FOX4. "Then about a month ago, we stopped getting any information from them."
Rubinson said the city filed a lawsuit on March 5 regarding the property as a result of the ongoing violations. After receiving a warning of a potential $1,000 per day fine for keeping the mural up, Paz said the decision was made to take the mural down this week.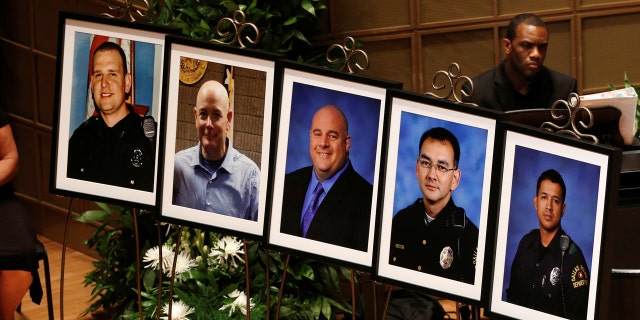 For Valerie Zamarripa, whose son Patrick was killed in the ambush, along with Michael Smith, Lorne Ahrens, Michael Krol and Brent Thompson, anything that honors the officers killed that day is worth keeping.
"I feel like if it's trashed it's a dishonor to my son and the other officers who lost their lives," she told FOX4.
The fence is described by city officials as "illegal" and "constructed in such a way that it can conceal illegal activity."
"The mural painted on this illegal fence depicts a painful moment in Dallas' history that should never be forgotten and pays tribute to our fallen heroes," Rubinson told Fox News in an email. "However, the illegal fence poses a real and undisputed public safety issue for the surrounding neighborhood that cannot be ignored."
The city of Dallas unveiled the Dallas Circle of Heroes Memorial last year, which is a stone monument detailing the sacrifice of each fallen officer.
Zamarripa told FOX4 she remains hopeful that someone will see what's happened, and will help to restore the mural someplace where it won't violate any ordinances.
"Once I saw it, it showed me people do care, showed respect and honor for my son and the other officers," she said.
Fox News' Elizabeth Llorente contributed to this report.