Multiple tornadoes touch down in Kansas, Oklahoma, Texas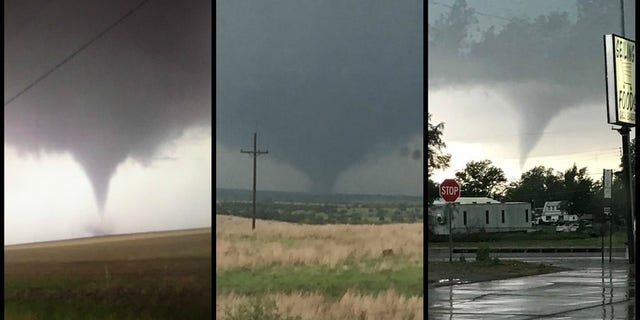 A least seven tornadoes touched down briefly in mostly rural areas of three states Thursday as a severe storm system moved eastward through Oklahoma and into south-central Kansas.
National Weather Service Meteorologist Vanessa Pearce in Wichita told the Associated Press three tornadoes were reported in Barton, Barber and Ford counties in Kansas.
Heavy rains and hail were reported across much of the region, with flash flooding reported in Great Bend, Kansas. No serious damage or injuries were reported so far as a result of the storms.
In Oklahoma, at least four tornadoes were reported in the western part of the state, according to Meteorologist Michael Scotten in Norman.
One of the tornadoes was reported a few miles north of the town of Duke and on the ground for several minutes, FOX 25 reported. The storm also produced golf ball to tennis ball-sized hail.
Further south in Texas, two tornadoes were reported in the northwest part of the state near town of Cromwell.
Significant and "intense" tornadoes were forecast for the Southern Plains through Friday.
Severe weather with possible hail, tornadoes and damaging winds could hit parts North Texas late Thursday, FOX 4 in Dallas reported.
Large portions of North Texas are under a tornado watch until 10 p.m. local time, including Dallas, Tarrant, Collin and Denton counties and areas west.
Storms have battered the central United States all week, with deaths reported Tuesday in Oklahoma and Wisconsin, and in Iowa on Wednesday.
The Associated Press contributed to this report.