Multiple tornadoes reported as severe weather hits Texas, Oklahoma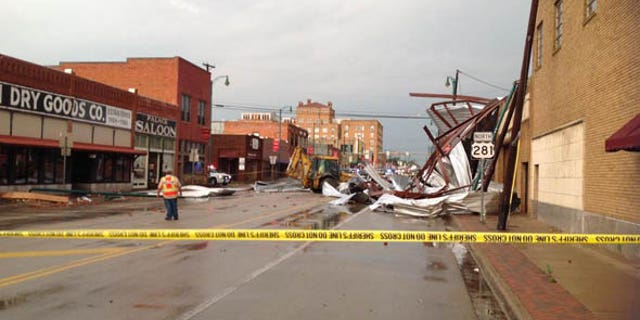 NEWYou can now listen to Fox News articles!
Multiple tornadoes touched down late Tuesday as a series of storms caused damage and flooding in parts of north Texas and southern Oklahoma, with more severe weather expected Wednesday.
One tornado touched down in Mineral Wells, Texas, about 80 miles west of Dallas, at approximately 7 p.m. local time Tuesday, the Fort Worth Star-Telegram reported. There were no immediate reports of injuries, but a police dispatcher told the paper that the twister had caused the collapse of an abandoned bank building, damaged two churches, and torn the roof off a government building.
A second tornado was reported to have passed through the town at approximately 7:45 p.m. local time, but that was not immediately confirmed by the National Weather Service.
In Runaway Bay and Booneville, about 50 miles northwest of Fort Worth, storm spotters reported at least one tornado inflicting heavy damage to houses and apartment buildings.
The roofs of two apartment buildings in Runaway Bay were either torn off or collapsed, Wise County Sheriff David Walker told Fox 4.
There were no immediate reports of injuries from either storm, the Associated Press reported.
In Bridgeport, game wardens used a boat to rescue about a dozen residents after a mobile home community flooded.
"We've waded in waist-deep water tonight rescuing elderly residents trapped by high water," Bridgeport police said, according to Fox 4.
Forecaster Matt Stalley told The Associated Press that Decatur had 5.1 inches of rain, with Bridgeport getting 4.8 inches.
Earlier Tuesday, a tornado touched town in the town of Giddings, Texas, approximately 55 miles east of Austin. The city's emergency manager told the Star-Telegram that the storm damaged some farm outbuildings and the roof of a Ramada Inn. One man who was a guest at the hotel was reported injured when debris blew in through a window and struck him in the head. He was taken to a hospital in San Marcos for treatment of head lacerations.
Storm systems across the southern Plans had brought heavy rain and flooding to the region over most of the day Tuesday. In West Texas, San Angelo Regional Airport was closed after the terminal became flooded. In the city of Abilene, firefighters blamed lightning for a fire that destroyed a home in that city.
In Oklahoma, flooding was reported in the university town of Norman, and forecasters called for up to eight-and-a-half inches of rain for the south-central part of the state.
Earlier Tuesday, authorities reported multiple small tornadoes had touched down near the town of Purcell in southern Oklahoma. Other tornadoes were reported in three counties, though no significant damage or injuries were reported.
On Wednesday, a low pressure system is expected to collide with warm air from the Gulf of Mexico, resulting in rain and thunderstorms over the southern Plains and parts of the Deep South, The Associated Press reports.
Forecasters told the AP that these storms are capable of producing large hail, dangerous winds and isolated tornadoes.
Heavy rain from the storms will also bring threats of flash flooding to central Texas.
Click for more from the Fort Worth Star-Telegram.