MS-13 gang members charged in machete attack in New York, police say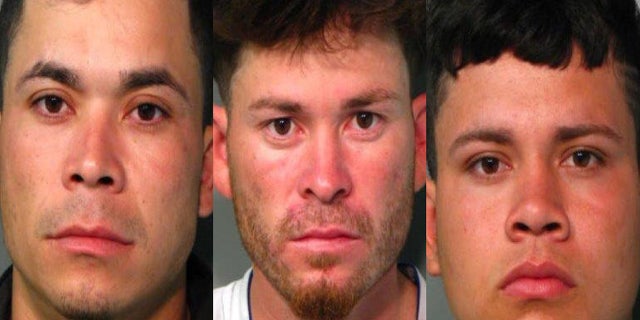 Authorities in New York announced Wednesday that three members of the MS-13 gang have been charged with attempted murder in an attack over the weekend involving a machete.
Nassau County police said the 19-year-old victim was hit with a machete and shot at Sunday in the Long Island community of Westbury.
On Tuesday, police arrested Jose Hernandez, 26, Fidel Hernandez, 23, and Miguel Urias Arguenta, 18, in connection with the attack.
Authorities said the Hernandez brothers, both from El Salvador and in the country illegally, are responsible for an additional assault in January when a 19-year-old man was slashed in the face with a machete. Arguenta, also born in El Salvador, was in the process of applying for a green card, according to police.
MS-13 - THE GANG THAT SCARES OTHER GANGS
"All three have demonstrated that they are extremely dangerous people," Nassau County Police Chief Kevin Smith said at a news conference. "We would encourage anyone else who has been victimized or is afraid of these people, maybe afraid to report it, to come forward and contact the police."
In the most recent assault on Sunday, police said the three attacked a 19-year-old man because they didn't like the way he was laughing.
"He's on the street, he may be laughing about something and these people confronted him," Smith told reporters. "I don't know about you people, I have been in situations where people have seen me make a face or smirk and thought that it was directed at them, and it wasn't the case, and I think it might have been the case in this instance."
AG SESSIONS TO MS-13 GANG: 'WE ARE COMING AFTER YOU'
The latest incident involving the violent gang happened roughly 20 miles from Brentwood and Central Islip, where MS-13 has been linked to 11 corpses found in the last six months. State officials announced a new task force last month to crack down on the violence plaguing Long Island communities.
NEW YORK LAUNCHES TASK FORCE TO COMBAT MS-13 GANG ON LONG ISLAND AFTER RECENT MURDERS
The bloodshed has gotten the attention of President Trump, who has called it the result of lax immigration policies, and drew in a visit on Friday from U.S. Attorney General Jeff Sessions, who vowed to "demolish" MS-13.
MS-13, also called Mara Salvatrucha, is believed to have been founded as a neighborhood street gang in Los Angeles in the mid-1980s by immigrants fleeing a civil war in El Salvador. It grew after some members were deported to El Salvador, helping turn that country into one of the most violent places in the world
Federal prosecutors believe MS-13 has thousands of members across the country.
The Associated Press contributed to this report.