Mother of eastern Indiana jail escapee faces charge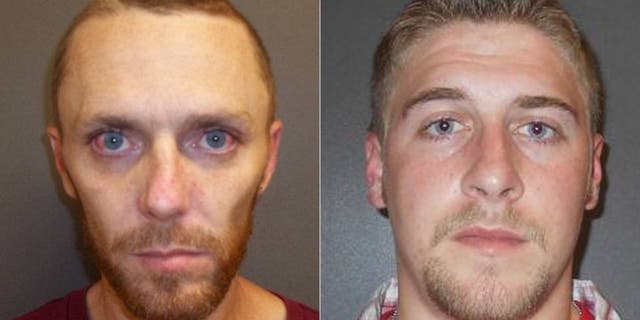 NEWYou can now listen to Fox News articles!
The mother of an escaped Indiana jail inmate was arrested Monday, not for helping her son escape, but for helping the man he fled with, officials said.
The Fayette County Sheriff's Office said 60-year-old Paula Potters of Connersville faces a preliminary charge of assisting a criminal by providing food and clothing to Michael Roberts, after Roberts and her son, Chadwick Heath, escaped Friday night.
Under Indiana law, Potters cannot be charged with helping her son evade arrest.
Authorities focused their search for the two on the Dayton, Ohio, area after a truck the two might have used was discovered there Sunday night.
Heath and Roberts escaped through a tiny two-foot hole in their cell at about 11:30 p.m., conjuring images of the famous "Shawshank Redemption" escape. The two had a two-hour head start when authorities finally noticed they were gone.
The sheriff's office is offering $1,000 rewards for information leading to the capture of Roberts and Heath.
Heath is charged with four counts of dealing a narcotic drug, maintaining a common nuisance and visiting a common nuisance. Roberts is charged with burglary and two counts of theft.
The pair may be using a 2015 white Ford F350 that belonged to a person Roberts used to work for. The owner reported the vehicle missing on Sunday morning.
The Associated Press contributed to this report.