MORNING BRIEF: Trump spokeswoman: Clinton would have fired Comey, too
Deputy White House Press Secretary Sarah Huckabee Sanders said now-former FBI Director James Comey would have been fired by a 'President Hillary Clinton.'
Huckabee Sanders said Comey "lost the confidence of the rank and file within the FBI" as well as that of both sides of the political aisle. (WATCH: A LOOK BACK INTO COMEY'S CAREER)
'HANNITY': FIRING COMEY WAS THE RIGHT MOVE
WHO'S NEXT?
President Trump is expected to nominate a replacement for fired FBI Director James Comey "in the coming days," a senior White House official told Fox News late Tuesday.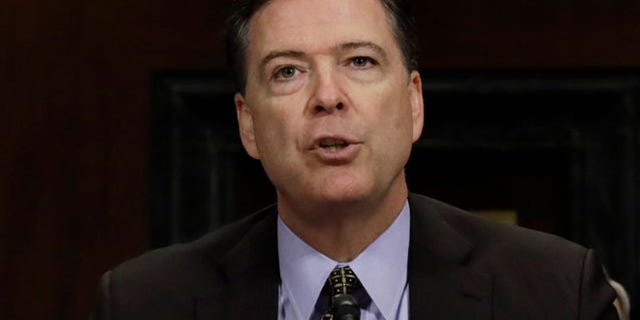 The official did not specify how soon Trump would nominate someone for the position. The official also did not indicate who was being considered for the position, but told Fox News to expect candidates who were non-political and could restore credibility to the position.
'SPECIAL REPORT' CRITICS QUESTION TIMING OF COMEY'S DISMISSAL
BRIT HUME ON POLITICAL FIRESTORM OVER COMEY FIRING
FOX NEWS OPINION
JOHN YOO, professor of law at UC Berkeley, writes that the reputation of the FBI would be injured if Comey had remained, even if he acted out of the noblest of intentions.
TRUMP TAKES ON SCHUMER
President Trump late Tuesday took to Twitter to fire back at Senate Minority Leader Chuck Schumer for comments the New York Democrat made in response to the firing of FBI Director James Comey.
Schumer held a press conference Tuesday evening and told reporters that he had a phone conversation with the president prior to Comey's firing, and told Trump that he is "making a big mistake." (READ TRUMP'S LETTER TO COMEY)
LOS ANGELES SANCTUARIES
Los Angeles public schools passed a resolution Tuesday making campuses sanctuaries for illegal immigrants in danger of being deported.
The school board's resolution was shaped as a reaffirmation of a measure passed last year that designated Los Angeles public schools as a "safe place" for illegal immigrants and their families, the Los Angeles Daily News reported.
COMING UP ON FOX NEWS
1:30 PM ET: White House press briefing with Principal Deputy Press Secretary Sarah Sanders
COMING UP ON FOX BUSINESS
6 AM ET: Terry Turchie, the former deputy assistant director of FBI's counterterror division, to appear on "Mornings With Maria"
7 AM ET: James Kallstrom, former FBI assistant director, to appear on "Mornings With Maria"
8 AM ET: Rep. John Ratcliffe, former U.S. attorney, to appear on "Mornings With Maria"