Morning brief: Republicans seek clarification on Trump, Comey tapes
NEWYou can now listen to Fox News articles!
PROGRAMMING ALERT: Ivanka Trump will appear on "Fox & Friends" at 7 a.m. ET for an exclusive interview.
REPUBLICANS HOPE TO CLEAR AIR ON TRUMP, COMEY TAPES
Republicans on Sunday urged President Trump to clear the air on whether he has tapes of private conversations with former FBI Director James Comey and provide them to Congress if he does. "I don't understand why the president just doesn't clear this matter up once and for all," said Sen. Susan Collins, R-Maine, a member of the Senate Intelligence committee. She added that she would support a subpoena for the tapes if needed. Sen. James Lankford, R-Okla., who is also on the committee, agreed the panel needed to hear any tapes that exist. "We've obviously pressed the White House," he said.
SENATE DEMS ENTER NEW TERRITORY ON RUSSIA PROBES WITH PUSH TO GRILL SESSIONS, TRUMP
LYNCH SHOULD TESTIFTY IN WAKE OF COMEY CLAIMS, GRAHAM SAYS
MELANIA TRUMP, SON OF BARRON, MOVE INTO WHITE HOUSE
ATTORNEYS GENERAL TO FILE LAWSUIT AGAINST TRUMP OVER FOREIGN PAYMENTS: REPORTS
The attorneys general of Maryland and Washington D.C. reportedly plan to file a lawsuit Monday against President Trump alleging that foreign payments to his businesses' violate the Constitution. The lawsuit focuses on Trump's decision to retain ownership of his company when he became president. Trump insisted in January that he was moving business assets into a trust to be managed by his sons and eliminate possible conflicts, according to The Washington Post. The case from two Democratic attorneys general may stand a better chance in court because it is the first brought by government entities, according to Reuters.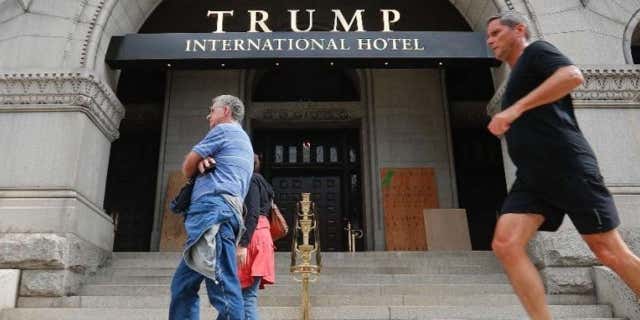 STEVE HILTON: THE TOP ISSUE IN AMERICA IS AN ECONOMIC CRISIS
RNC CHAIRWOMAN: RUSSIA-TRUMP COLLUSION PROBES SHOULD END
PREET BHARARA: 'ABSOLUTELY EVIDENCE' TO BEGIN OBSTRUCTION CASE VS. TRUMP
SPONSORS FLEE NEW YORK CITY THEATER COMPANY OVER TRUMP-KILLING SCENE
Delta Air Lines and Bank of America became the first companies to announce that they are pulling their sponsorships of a Manhattan-based theater company's portrayal of Julius Caesar as a Donald Trump look-alike in a business suit who gets stabbed to death on stage. "No matter what your political stance may be, the graphic staging of Julius Caesar at this summer's Free Shakespeare in the Park does not reflect Delta Air Lines' values," the company's statement said. "Their artistic and creative direction crossed the line on the standards of good taste."
NYC PLAY APPEARS TO DEPICT ASSASSINATION OF TRUMP
TEEN'S 'TRUMP' T-SHIRT REPORTEDLY BLACKED-OUT IN YEARBOOK PHOTO
VAN JONES: CLINTON CAMPAIGN 'TOOK A BILLION DOLLARS AND SET IT ON FIRE'
LGBT RIGHTS MARCHERS TAKE TO STREETS TO EXPRESS PRIDE, ANGER TOWARD WHITE HOUSE
Tens of thousands of LGBT rights supporters marched across the U.S. on Sunday, celebrating gains but expressed anger over threats posed by the Trump administration. Marchers also spoke out against President Trump's decision to stock his administration with foes of LGBT rights, including Vice President Mike Pence, Attorney General Jeff Sessions, and Health and Human Services Secretary Tom Price.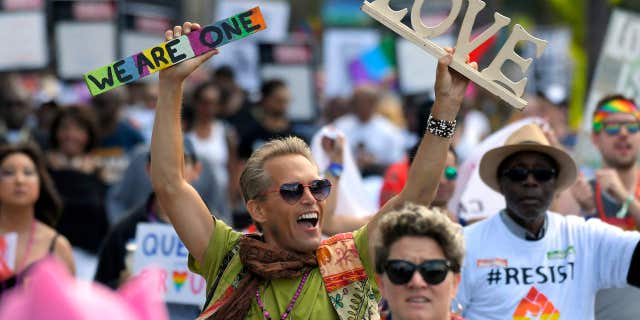 FIRST NEW COAL MINE OF TRUMP ERA OPENS IN PA
GUTFELD: COMEY TESTIMONY 'A PILE OF BALONEY'
PITTSBURGH PENGUINS WIN SECOND CONSECUTIVE STANLEY CUP
The Pittsburgh Penguins accomplished a Stanley Cup feat that has not been done since the late 1990s – win back-to-back championships. The Penguins defeated the Nashville Predators in Game 6 on Sunday, 2-0, thanks to a Patric Hornqvist goal with 1:35 in the third period. Carl Hagelin added the empty-net goal to put the game, and the title, out of reach for the Predators. Pittsburgh won its fifth title -- all of which have been clinched on the road -- to tie the Wayne Gretzky-Mark Messier-era Edmonton Oilers for sixth on the all-time list. The Detroit Red Wings in 1997 and `98 were the last champion to defend their title, but the Penguins are the first to do it in the salary cap era. Sidney Crosby was awarded the Conn Smythe Trophy, the postseason MVP award.
EX-NBA PLAYER ARRESTED IN CAR FILLED WITH LOADED GUNS, POLICE SAY
COMING UP ON FNC
1:30 p.m. ET: Sean Spicer to give press briefing. Watch live on Fox News Channel.
3:00 p.m. ET: President Trump hosts the NCAA Football champions Clemson Tigers.
4:00 p.m. ET: House Appropriations Financial Services & General Government Subcommittee holds a budget hearing on the Department of the Treasury. Watch live on FoxNews.com.
7:00 p.m. ET: House Armed Services Committee holds hearing on "The FY18 National Defense Authorization Budget Request from the Department of Defense." Watch live on FoxNews.com.
FOX BUSINESS COVERAGE
Wall Street Week Ahead: Regional banks may keep lagging without Washington lift (Click here for more)
Comey facing 'three-pronged legal attack' after Kasowitz's detailed investigation (Click here for more)
COMING UP ON FBN
6:30 a.m. ET: Terry Turchie, Former Deputy Assistant Director, FBI Counterterror Division will appear on "Mornings with Maria."
7:00 a.m. ET: Ron Desantis, Congressman, R-Fla., and House Freedom Caucus Member will be a guest on "Mornings with Maria."
9:15 a.m. ET: Evander Holyfield, four-time heavyweight champion will appear on "Varney & Company."
11:15 a.m. ET: James Kallstrom, former FBI Assistant Director will be a guest on "Varney & Company."