More progress on mustering support for Iran deal as New York lawmaker announces his backing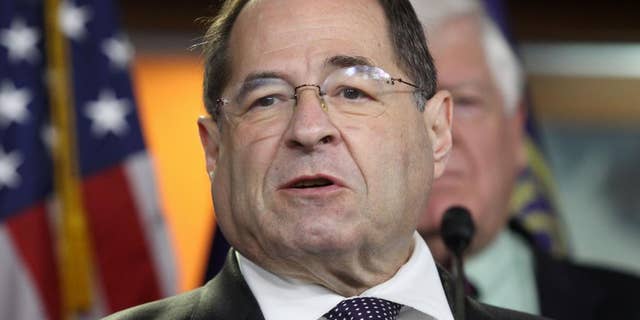 NEWYou can now listen to Fox News articles!
WASHINGTON – President Barack Obama's nuclear agreement with Iran gained momentum in Congress on Friday as a key Jewish Democrat from New York bucked home-state opposition to back the deal.
Rep. Jerrold Nadler's endorsement followed a personal appeal from Obama, and came despite opposition from New York's senior senator, prominent Democrat Chuck Schumer, and other Jewish members in the New York congressional delegation. Iran has threatened to destroy Israel and Prime Minister Benjamin Netanyahu is vehemently opposed to the deal.
Nadler became the latest undeclared Democrat to break in favor of the historic agreement, which seeks to keep Iran from building a nuclear bomb in exchange for billions in international sanctions relief.
"I bring to my analysis the full weight of my responsibilities as a member of Congress, and my perspective as an American Jew who is both a Democrat and a strong supporter of Israel," Nadler said in a statement. He said he'd concluded that of the alternatives, the agreement "gives us the best chance of stopping Iran from developing a nuclear weapon."
Nadler, who's the first Jewish lawmaker from New York to back the deal, received a lengthy personal letter from Obama earlier this week defending the deal and pledging that the U.S. will continue to put economic pressure on Iran and keep military options open.
"In our conversations, Jerry raised specific concerns relating to Israeli security and the U.S. commitment to countering Iran's destabilizing activities in the region," Obama said Friday. "I wanted to respond to the thoughtful questions Jerry raised, and I am pleased that our discussions were ultimately productive."
Nadler's announcement comes at the end of a week that's seen the deal pick up a steady stream of Democratic support in the House and Senate despite furious opposition from the Israeli government and Republicans who say it makes too many concessions to Iran and could actually enable that country to become a nuclear-armed state.
Congress is facing a vote next month on a resolution disapproving of the deal, but Obama will veto such legislation if it prevails. Congressional Republicans would then need to muster two-thirds majorities in both the House and the Senate to overturn Obama's veto, a steep bar that even Senate Majority Leader Mitch McConnell, R-Ky., says Republicans are unlikely to overcome.
House Minority Leader Nancy Pelosi, a strong supporter of the deal signed by the U.S., Iran and five world powers, declared this week that House Democratic supporters have the votes necessary to sustain Obama's veto despite unanimous GOP opposition. She reiterated that assertion in a letter Friday to fellow Democrats in which she trumpeted Nadler's endorsement and declared, "I feel confident that we will sustain the president's veto, and we will all work together to hold Iran accountable to honoring the agreement."
The list of public Democratic supporters in the House is now approaching 60, with only a dozen opposed. In the Senate, only two Democrats — Schumer and Robert Menendez of New Jersey — have announced opposition to the deal while 26 have announced their support.
However some key Democrats have not yet made their positions known. Among them: Senate Democratic Leader Harry Reid of Nevada; Sen. Ben Cardin of Maryland, the top Democrat on the Senate Foreign Relations Committee; and House Minority Whip Steny Hoyer of Maryland, the No. 2 House Democrat.
___=
Associated Press writer Darlene Superville contributed to this report from Oak Bluffs, Massachusetts.