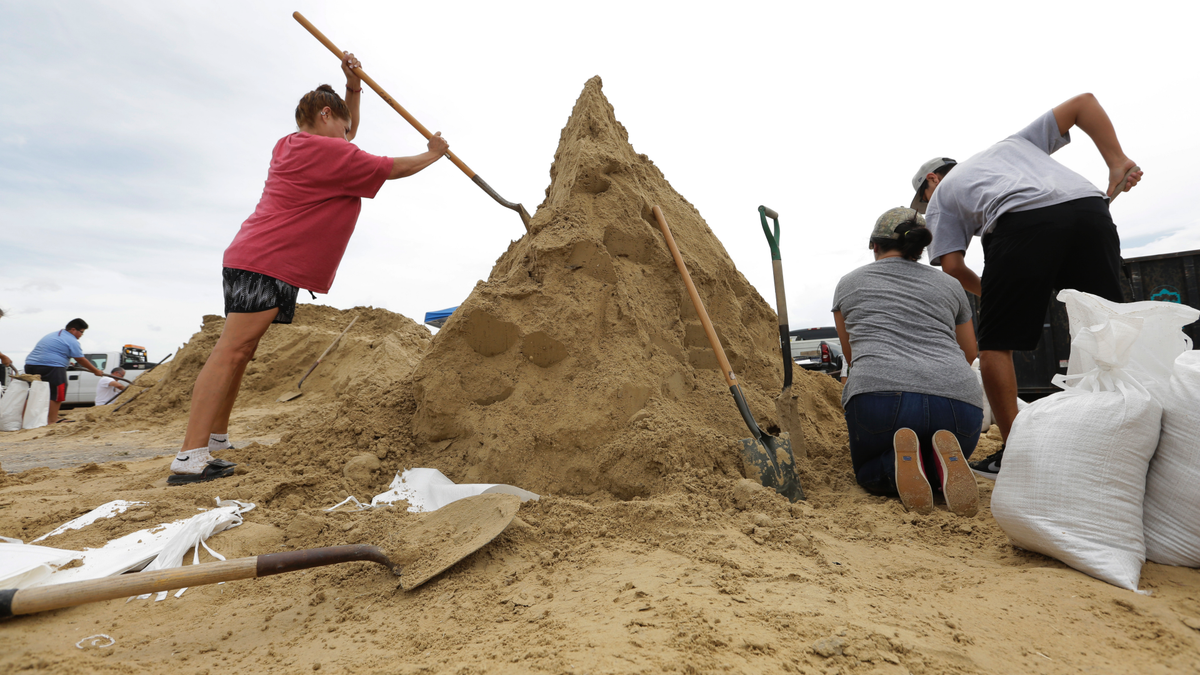 HOUSTON – Harvey intensified into a hurricane Thursday and steered for the Texas coast with the potential for up to 3 feet of rain, 125 mph winds and 12-foot storm surges in what could be the fiercest hurricane to hit the United States in almost a dozen years.
Forecasters labeled Harvey a "life-threatening storm" that posed a "grave risk." Millions of people braced for a prolonged battering that could swamp dozens of counties more than 100 miles inland.
Landfall was predicted for late Friday or early Saturday between Port O'Connor and Matagorda Bay, a 30-mile (48-kilometer) stretch of coastline about 70 miles (110 kilometers) northeast of Corpus Christi
Harvey grew quickly Thursday from a tropical depression into a Category 1 hurricane. Fueled by warm Gulf of Mexico waters, it was projected to become a major Category 3 hurricane. The last storm of that category to hit the U.S. was Hurricane Wilma in October 2005 in Florida.
Superstorm Sandy, which pummeled New York and New Jersey in 2012, never had the high winds and had lost tropical status by the time it struck. But it was devastating without formally being called a major hurricane.
"We're forecasting continuing intensification right up until landfall," National Hurricane Center spokesman Dennis Feltgen said.
All seven Texas counties on the coast from Corpus Christi to the western end of Galveston Island have ordered mandatory evacuations of tens of thousands of residents from all low-lying areas. In four of those counties, officials ordered their entire county evacuated and warned those who stayed behind that no one could be guaranteed rescue. Voluntary evacuations have been urged for Corpus Christi itself and for the Bolivar Peninsula, a sand spit near Galveston where many homes were washed away by the storm surge of Hurricane Ike in 2008.
Texas officials expressed concern that not as many people are evacuating compared with previous storms.
"A lot of people are taking this storm for granted thinking it may not pose much of a danger to them," Gov. Greg Abbott told Houston television station KPRC. "Please heed warnings and evacuate as soon as possible."
Abbott has activated about 700 members of the state National Guard ahead of Hurricane Harvey making landfall.
As of late Thursday afternoon, Harvey was about 305 miles (490 kilometers) southeast of Corpus Christi, moving to the north-northwest at about 10 mph (17 kph). Sustained winds were clocked at 85 mph.
Harvey's effect would be broad. The hurricane center said storm surges as much as 3 feet could be expected as far north as Morgan City, Louisiana, some 400 miles away from the anticipated landfall.
And once it comes ashore, the storm is expected to stall, dumping copious amounts of rain for days in areas like flood-prone Houston, the nation's fourth most-populous city, and San Antonio.
State transportation officials were considering when to turn all evacuation routes from coastal areas into one-way traffic arteries headed inland. John Barton, a former deputy executive director of the Texas Department of Transportation, predicted state officials will do this before the storm hits, but said timing and determining where to use it are the key factors. Storms change paths and if contraflow starts too early, supplies such as extra gasoline needed to support impacted areas can't get in, he noted.
"We are closing down," said Bethany Martinez, a front desk clerk at a Holiday Inn Express at Port Aransas. The 74-room hotel a couple of blocks from the Gulf of Mexico was about two-thirds full before all guests were cleared out.
This would be the first hurricane for Martinez, who is pregnant and has two boys, 5 and 6. They were with grandparents in Austin.
Asked about her demeanor, she replied: "Afraid."
Driscoll Children's Hospital in Corpus Christi was airlifting at least 10 critically ill, mostly premature infants from its neonatal intensive care unit to Cook Children's Hospital in Fort Worth. They were expected to arrive by early Friday. Cook transport director Debbie Boudreaux said Driscoll was moving the infants inland for fear that power outages might disable their ventilators.
Harvey would be the first significant hurricane to hit Texas since Ike in September 2008 brought winds of 110 mph (177 kph) to the Galveston and Houston areas and inflicted $22 billion in damage. It would be the first big storm along the middle Texas coast since Hurricane Claudette in 2003 caused $180 million in damage.
It's taking aim at the same vicinity as Hurricane Carla, the largest Texas hurricane on record. Carla came ashore in 1961 with wind gusts estimated at 175 mph and inflicted more than $300 million in damage. The storm killed 34 people and forced about 250,000 people to evacuate.
White House spokeswoman Sarah Huckabee Sanders said President Donald Trump was "briefed and will continue to be updated as the storm progresses."
In Houston, one of the nation's most flood-prone cities, Bill Pennington was philosophical as he prepared his one-story home for what he expected would be its third invasion of floodwaters in as many years and the fifth since 1983.
"We know how to handle it. We'll handle it again," Pennington said he told his nervous 9-year-old son.
Dozens were in lines early Thursday at a Corpus Christi Sam's Club, at home improvement stores and supermarkets. The city also was passing out sandbags.
Alex Garcia bought bottled water, bread and other basics in the Houston suburb of Sugar Land after dropping his daughter off at college. He said grocery items were likely more available in Houston than back home in Corpus Christi, where Garcia, a beer distributor salesman, said stores were "crazy."
"We'll be selling lots of beer," he laughed.
Kim Fraleigh, of Sugar Land, stocked up with five cases of water, three bags of ice and other supplies at a supermarket.
"We've got chips, tuna, dry salami, anything that does not require refrigeration," she said.
Joey Garcia, director of the HEB store, said more than a semitrailer load of water was sold Wednesday, and he expected two more trailers on Thursday.
In Galveston, where a 1900 hurricane went down as the worst in U.S. history, City Manager Brian Maxwell said he was anticipating street flooding and higher-than-normal tides.
"Obviously being on an island, everybody around here is kind of used to it."
___
Associated Press writers Frank Bajak in Houston; Seth Borenstein and Catherine Lucey in Washington; Diana Heidgerd, Jamie Stengle and David Warren in Dallas; and videographer John Mone in Sugar Land contributed to this story.