More details of murdered Mass. couple's troubled marriage revealed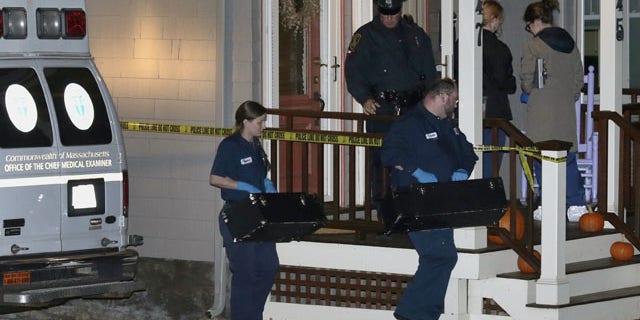 NEWYou can now listen to Fox News articles!
More details have come to light about the turbulent married life of a suburban Boston couple who were found dead with their twin infant sons in their condominium Monday.
The Boston Herald reported that 43-year-old Mei Kum Jones appeared to have posted a request for "a good divorce attorney" on an online forum on the Massachusetts Mothers of Twins Association website. The author of the post identified herself as "Mei" and gave the names of her twin sons as Colt and Cameron, the names of the children found dead Monday afternoon.
"I will soon be a single mom to my twin boys ..." the Sept. 30 posting read, in part. "It breaks my heart for the boys to grow up in a divorce (sic) family. Their dad will probably not be in their lives either. I need to find a way to cope."
WFXT reported, citing a source, that Mei Kum Jones had been strangled and the throats of the little boys had been cut with some sort of cutting tool. The source indicated that the incident was an apparent murder-suicide. Investigators have only said publicly that the means and manner of the deaths would be determined by a medical examiner.
The Boston Globe, citing two law enforcement officials briefed on the investigation, reported that 43-year-old Scott Jones was believed to have murdered his wife and sons before taking his own life. One of the officials told the paper "We presume the husband did it."
Court documents seen by the Herald and WFXT Tuesday revealed more details about the couple's relationship. An Arlington police report stated that Scott Jones threatened to kill himself in March 2010, when the couple were living together but before they were married. The report states that Scott Jones told Mei Kum to access his life insurance policy and make herself the beneficiary.
Court filings from Scott Jones' failed first marriage reveal that his first wife accused him of having an affair with a neighbor's 18-year-old au pair and cited Scott's "mental instability" and "verbal and mental abuse" as reasons for the divorce. Jones had two children from his first marriage, according to the documents.
The filings also revealed that Scott Jones had worked as a paramedic, EMT, and lab technician for several Boston-area hospitals and EMS agencies. Last month, Jones had filed a whistleblower suit against his most recent employer, LifeLine Ambulance Service. In the suit, Jones claimed that he was fired in February for warning officials that some medical devices were malfunctioning, and that EMTs could possibly gain access to powerful narcotics.
Jones's lawyer in the whistleblower case, Timothy M. Burke, said he was shocked by the deaths.
"There was never any indication at any juncture that there was any kind of family difficulty," he told the Herald. "It was just the opposite. He was very enthusiastic about his boys and his family."
Click for more from MyFoxBoston.com