Moose kicks man in Alaska -- after he kicked first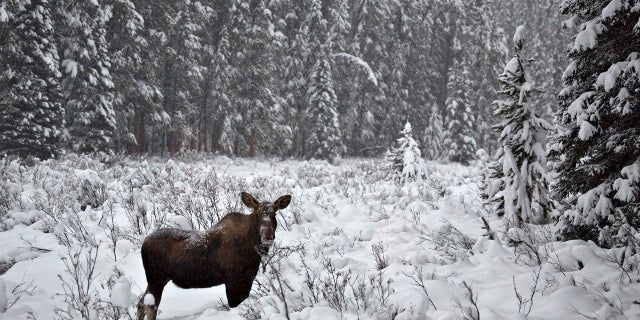 A moose kicked a man's foot last week in Alaska — after he'd already given it a kick, KTVA-TV reports.
The Thursday incident which left the man injured reportedly involved a moose and her calf.
The two moose left the area after the man had his foot stomped, Alaska Troopers spokeswoman Megan Peters told the outlet. He'd given the cow a kick, she said.
As for the man involved? He's believed to have avoided serious injuries, Alaska Department of Fish and Game (ADFG) spokesman Ken Marsh told the station.
BOY, 7, RESCUED AFTER GETTING STUCK IN MONUMENT WHILE TRYING TO RECREATE CHILDHOOD PHOTO
"It sounds like the moose were on a trail and in this case, it sounds like the guy was trying to go through them," he explained. "That's never a good idea."
The ADFG has a page online about the animals.
"The key to coexisting with moose is to avoid confrontations by giving moose plenty of space," it warns, adding, "Never approach a moose!"
It also goes into moose behavior.
"Normally, moose will flee when they feel threatened but under certain circumstances, they can become aggressive," the department says. "People can be hurt when moose charge, stomp and kick to protect themselves or their young."
The Associated Press contributed to this report.