Mom of biracial man killed by white police officer says she trusts prosecutor to seek truth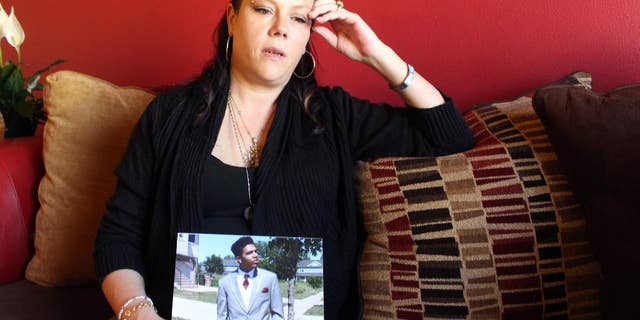 MADISON, Wis. – The mother of a biracial man fatally shot by a white Wisconsin police officer said Wednesday that she's barely coping with her son's death but believes prosecutors will seek the truth as they review the case.
Andrea Irwin told The Associated Press during an interview in her home that she can't stop moving or the weight of 19-year-old Tony Robinson's death will overwhelm her. She said she has moments when she feels like something is squeezing her heart.
"It all just creeps into my mind," she said as she sat on a couch beneath photographs of Robinson's high school graduation. "As the days go by, it gets harder. It gets more real. It hurts more."
Still, she has faith District Attorney Ismael Ozanne will thoroughly review the circumstances surrounding Robinson's death. She said she has "private thoughts" about what happened and why but doesn't know enough about what happened to express an opinion.
"I try to be very logical about any situation," said Irwin, a 37-year-old social worker. "I still just want to see everything before I pass judgment. I just hope that after we're able to review the investigation, people will take out their biases and see the truth."
Madison Police Officer Matt Kenny shot Robinson in an apartment house near the state Capitol building on March 6. Police have said Robinson attacked Kenny as the officer was responding to calls that Robinson had assaulted two people and was running in traffic.
Few additional details have emerged. State Department of Justice agents wrapped up an investigation last week and handed their findings to Ozanne, who now must decide whether to charge Kenny. The prosecutor, who is black, has said he has no timetable for a decision.
The shooting has sparked outrage in Madison's black community. Tensions have been running high between police and black people across the country after white officers killed Michael Brown in Ferguson, Missouri, Eric Garner in New York City and Dontre Hamilton in Milwaukee.
Protesters held rallies in Madison's streets every day during the week immediately following Robinson's death. The protests were peaceful, but demonstrators still accused police of racial prejudice and demanded Kenny be fired and charged with homicide.
Even though she's withholding judgment, Irwin said protesters are free to form their own opinions about what happened to her son.
"With the facts that have been out, people will look at this situation and see some of what may be the truth and some of what they want to see," she said. "They have the right to their opinion."
Irwin called her son, who stood 6-foot-4 and weighed 220 pounds, her "gentle giant." She said he loved to play football and was training to try out for a semi-pro team.
Wearing a pendant around her neck with her son's face emblazoned on it, she said she's sick of people making online comments about Robinson being a criminal because he was convicted of armed robbery last year. His friends talked him into going along to the robbery and he realized he made a mistake, she said. The incident taught him he had to grow up, she said.
"I'm not asking people to love my son to death. He was not an angel. But he was a 19-year-old kid and that's it," Irwin said. "One mistake does not define who you are your whole life. If you're without flaw, by all means, throw stones."
Court documents noted Robinson was diagnosed with attention-deficit disorder. Irwin said the diagnosis came when Robinson was 7 and she disagreed with it, saying doctors like to label children and he simply was a "rambunctious" child with a lot of natural energy. He eventually outgrew the disorder and hadn't taken any medication for it since middle school, she said.