Mom, baby among 5 dead in strong storms in northeast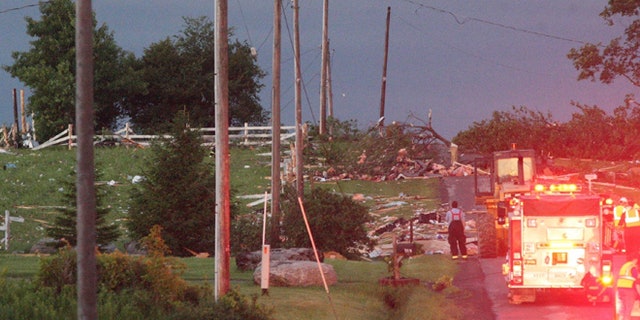 NEWYou can now listen to Fox News articles!
A powerful storm system swept through the northeast Tuesday night, resulting in the deaths of a New York state mom, her 4-month-old baby, two neighbors and a Maryland child at summer camp, officials said.
Officials in central New York are trying to determine if the four demolished homes were hit by a tornado.
A spokesman for the Madison County emergency management office said the deaths were reported just after 7 p.m. in the community of Smithfield, located between Syracuse and Utica.
"The houses are obliterated," Rich Bargabos, the town supervisor, told Syracuse.com. "There is not a piece of framework together."
The family was not immediately identified. Officials said in a television interview that the rubble at the Smithfield site was being searched and that neighbors were being interviewed.
Officials in New York plan to talk more about the storm damage and deaths at a news conference Wednesday morning. The spokesman for the emergency management office said there was widespread damage in the towns of Sullivan and Lenox, between Syracuse and Utica.
The other reported death was a child at a Maryland summer camp. USA Today reported that the child was headed to take shelter when a tree fell on him. The paper reported that more than more than 135,000 homes in Pennsylvania are without power. More than 70,000 utility customers in central New York are without power.
The Associated Press contributed to this report.
Click for more from Syracuse.com