Mollie Tibbetts, missing Iowa student, has always relied on prayer, dad says
BROOKLYN, Iowa – Mollie Tibbetts is a woman of faith who has always turned to prayer in times of trouble, Rob Tibbetts, the missing student's father, told Fox News.
"Mollie's very spiritual, and so is her brother Scott and so we talked about that quite a bit," Tibbetts told Fox News.
Rob says that as he continues to search for his daughter, a student at the University of Iowa, he feels the prayers and good will that people all over the world say they are sending to him, his family and community of Brooklyn, Iowa, which has rallied around the Tibbetts.
"There's sort of a collective force in the country right now," Tibbetts said. "There's a will to bring Mollie back and I subscribe to that. I think there's real power in the ability to pull Mollie back from wherever she is so everybody pray and everybody think positive thoughts."
Mollie Tibbetts, 20, vanished on July 18 in her rural hometown of Brooklyn, Iowa, in the central part of the state.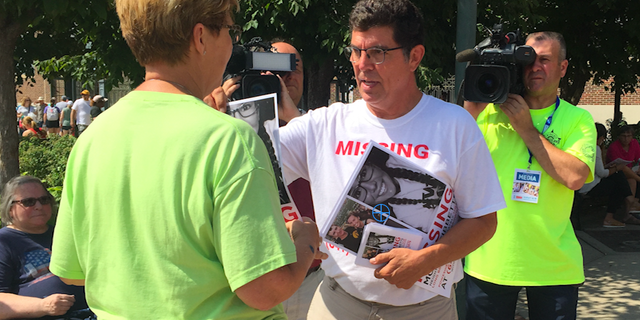 Mollie was last seen jogging. Authorities say she was in a pink top and black shorts. So far police have not released any other details, saying making information public could jeopardize their case.
Since Mollie's disappearance, pictures and videos of her have surfaced and are being used in print and on television. One video that Mollie's aunt posted on Facebook shows Mollie giving a speech to a youth group on an athletic field in which she talks about how her trust in God helped calm her nerves before an important track meet.
"I had no idea what to do," Tibbetts said in the video. "I was so scared."
She went on to explain how she got down on her knees to pray for the first time.
In the video, Tibbetts then said that during the race God was on her mind the entire time, and that she wound up running her best time all season.
Mollie's brother, Scott Tibbetts, tells Fox News that Mollie was giving that speech at their Christian youth group, which she faithfully attended.
"In high school she went to that every week as well as church most weeks. Sometimes she would even go with our grandma to church," Scott Tibbetts said.
The reward for Mollie Tibbetts has grown to $331,000. Crime Stoppers tells Fox News it's the largest reward for its organization in Iowa state history.