Mollie Tibbetts' boyfriend, brothers, father urge witnesses to 'come forward' in exclusive interviews
The boyfriend of missing college student Mollie Tibbetts told Fox News in an exclusive interview on Wednesday that he believes the doors of the home where she last stayed had been left unlocked – and he now locks his doors consistently.
"It's Brooklyn. You don't lock your doors," said the boyfriend, Dalton Jack. "We lock our doors now. Every night."
Tibbetts, a University of Iowa student, was last seen on July 18 when she left her boyfriend's home to jog. The boyfriend shares the home with his brother and his fiance, and Tibbetts was staying there to watch his dogs while he was out of town on business.
Jack said he thinks the home's doors were left unlocked around the time of Mollie's disappearance.
"It's more than likely because you know, nobody ever thought there was a reason to," he told Fox News. "Again, it's Brooklyn. Nothing ever happens in Brooklyn. That's why it's such a blindsided situation."
Officials have not revealed if there was any sign of a break-in or a struggle at the house.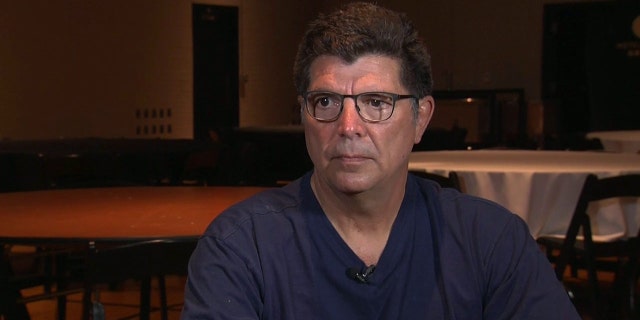 Jack said that early on in the search for Tibbetts, he kept calling her missing phone, hoping anyone would pick up.
"I did for like the first week and a half. Not more recently. I was just trying to see literally if anybody would pick up. And then, yeah, straight to voicemail," he said.
Jack told Fox News the last time he saw Tibbetts was on July 17, and he kissed her goodbye.
"I left for Dubuque, Iowa, which is about 100 miles away, on Tuesday morning at 5 in the morning," he said. "And I was staying there for work until what was supposed to be Friday. And then Thursday after we found out she was  missing I drove home. So I was in Dubuque the entire time."
Jack, who has been formally cleared by police in Tibbetts' disappearance, declined to talk about specifics of the case, citing officials' request.
"I mean everybody has their own theories but I'm just kind of leaving it up to the law enforcement trying to figure that one out," he said. "I don't want to go racking it through my brain thinking of what happened, what happened, what happened. Just driving myself insane."
Jake Tibbetts, Mollie's brother, told Fox News that "as far as what we think happened, we are really not sure."
"We know she is fighting as hard as anyone to get back home," he said. "It's a process and we wish it wasn't so long, but good things take time, and getting her home will be a really good thing."
Jake said he expects Mollie to resurface.
"We have full faith in the authorities, that they are going to do the best job they can," he said. "They have been brought in for a reason, because they are the best at what they do. We have a lot of faith in them."
Earlier, Tibbetts' father, Rob, said "the bottom line is somebody knows something" regarding his daughter's disappearance.
Rob Tibbetts, urging the public to come forward, said that in a small city like Brooklyn, Iowa, "you can't do anything there without someone seeing it."
"Just come home, pie," he said when asked if he had a message for Mollie. "We're looking, we'll find you.
"She's a brave girl. She'll be fine, just hang in there."
"There is no information too trivial" to report to police, he added.
He said Mollie always carried her iPhone around and, "like every other young person her age, she is constantly online."
But he said since she was last seen, the phone has not been tracked down, it's not powered on, and she has not been responsive to messages.
"It's absolutely not like Mollie to not respond to her phone," Rob Tibbetts told Fox News.
Brother Jake said that on Thursday, July 19, the day Mollie was reported missing to police, he'd texted her in the morning to see if she wanted to borrow a car they shared so she could go to work at Grinnell Regional Medical Center.
She didn't respond.
"I didn't think much about it at the time, but now I think about it a lot," he told Fox News on Wednesday. "About how weird it was not for her to text back."
"As the day went on, it certainly became evident to me something had happened," he said.
Rob Tibbetts described Mollie as an avid jogger who enjoyed singing along in the car to Ed Sheeran and The Beatles.
"She is extremely poised for her age and extremely mature," he told Fox News. "She won a state speech contest in Iowa."
A TIMELINE OF EVENTS IN THE DISAPPEARANCE OF MOLLIE TIBBETTS
Tibbetts said Mollie, a psychology major, is also "genuinely interested in other people."
"I've been telling people the genius of Mollie was her ability to make everything about other people," he said.
Scott Tibbetts, another of Mollie's brothers, said having a missing loved one "really is a helpless feeling, because there is not a whole lot you can do to end it."
"Otherwise it would have been done," he said.
The case has drawn national attention, yet searches for Tibbetts, encompassing properties including an area hog farm, have come up short. Police have not announced any suspects in her disappearance.
Anyone with information is urged to contact the police tip lines at (800) 452-1111 or (515) 223-1400. The sheriff said the public can also send tips via email to tips@poweshiekcosheriff.com