Missouri man trying to save stepson from fire hit with stun gun by police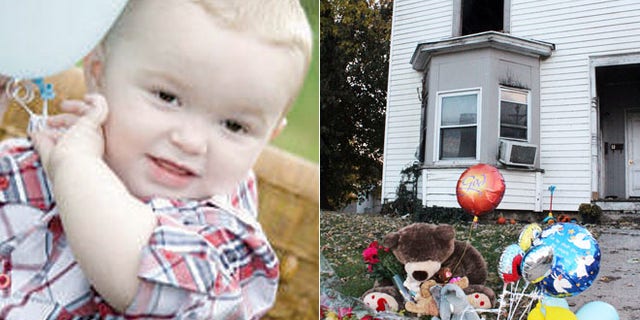 NEWYou can now listen to Fox News articles!
The family of a 3-year-old killed in a northern Missouri house fire early Oct. 31 says it is outraged after police used a stun gun to subdue the boy's stepfather as he tried to run back into the burning house to rescue the boy.
Riley Miller, the boy, died in the fire at the home in the town of Louisiana. A city police officer fired his stun gun at the stepfather, Ryan Miller, as he tried to re-enter the burning home. Authorities at the scene reportedly determined it was too dangerous to make an attempt to save the boy.
[pullquote]
Lori Miller, the boy's grandmother, says she witnessed two officers use the stun gun three times, twice after Ryan Miller had been handcuffed. Miller suffered chest burns and was later released from the city jail without being charged.
City Administrator Bob Jenne called the police response a "judgment call." A firefighter tried unsuccessfully to enter the home and it was deemed too hot for the stepfather to enter.
KSDK.com reports that Ryan Miller, who was dressed in pajamas at the time, pulled his shirt over his head and tried to kick in the front door. Jenne told the station police had no choice but to Taser the stepfather. Connecttristates.com reports that the town is expecting a lawsuit from the family.
"He was my best friend," Ryan Miller told The Louisiana Press-Journal. "He was everybody's best friend. If you would have met him, you would have loved him. He was the joy of my life."
The scene was intense. When firefighters arrived, flames were shooting out of the two-story house. The Press-Journal reports that the boy's mother and stepfather were able to exit the backdoor of the house after an unsuccessful attempt to get to the boy sleeping in another room. In all, it reportedly took firefighters eight hours to put out the fire. Investigators do not suspect any foul play.
Click for more from The Louisiana Press-Journal