Missouri lake boat crash kills 3 friends, injures 2 others; driver charged
A boat driver was charged with boating while intoxicated after he crashed the vessel with four of his friends aboard into a rock bluff on the Lake of the Ozarks early Saturday, killing three of them, officials said.
Hayden M. Frazier, 22, was arrested and charged Saturday morning following the deadly crash that happened in central Missouri just after midnight, FOX4KC reported.
Frazier was driving the boat when he struck a rock bluff, ejecting him and two of his friends — Joseph LeMark, 23, and Hailey Hochanadel, 21 — into the water. The 22-year-old managed to get back on the boat and paddled the vessel about half mile to the dock across the channel, according to the Missouri State Highway Patrol.
Another friend, Daniel Lewis, 24, was found dead on the boat. Crews found LeMark's body just after 8:30 a.m. Saturday. Divers recovered Hohanadel's body about 3 hours later.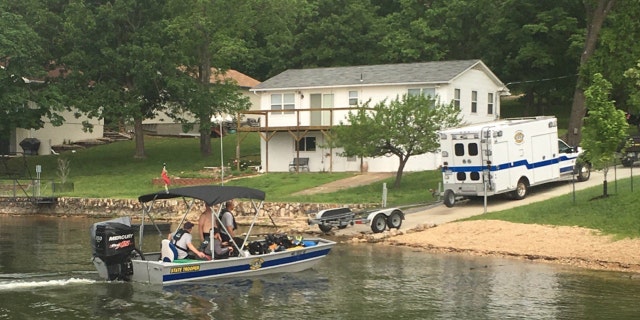 The fifth occupant, Ashley Lamb, 21, was seriously injured. She and Frazier, who suffered moderate injuries, were located by authorities around 1:45 a.m. Lamb was taken to the hospital.
MASSACHUSETTS CAR CRASH LEAVES 4 TEENAGERS DEAD
The five friends from Kansas' Olathe area had graduated from schools in the Olathe School District, the district's spokeswoman Maggie Kolb told Kansas City Star. At least four of them graduated from Olathe East.
"Shocking news to wake up to this morning," an Olathe East graduate posted on Facebook, according to the Kansas City Star. "Cannot believe how many fellow Olathe East classmates I have lost since graduation."
Frazier faces three charges of BWI — death of another, BWI — serious physical injury and negligent operation of a vessel. He is being held in Camden County Jail.