Missing Ohio mom allegedly strangled by ex-boyfriend during North Carolina vacation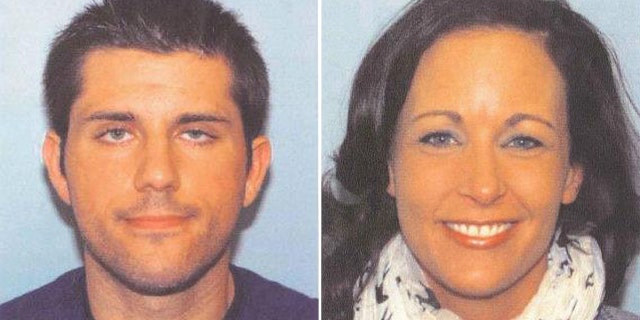 NEWYou can now listen to Fox News articles!
The brother of a man who authorities consider a person of interest in the disappearance of a 33-year-old Ohio woman called police to say that his sibling told him he strangled her.
Lynn Jackenheimer, 33, of Ashland, Ohio, was last seen a week ago on Hatteras Island with her two children, ages 3 and 13, and her former boyfriend, Dare County Sheriff's Department Chief Deputy Steve Hoggard told FoxNews.com.
"My brother was in North Carolina with his ex-girlfriend and he came back and said he strangled her, he dropped his kid off and left," Summerfield's brother told a police dispatcher, according to Fox affiliate WJW-TV.
Police say the boyfriend, 27-year-old Nathan Summerfield, returned the children to Ohio on Sunday before fleeing in a 2009 dark metallic gray Honda Civic with Ohio license plate FMV 7540.
"Nate shows up in Ashland County, drops the kids off at a family member's house, has a conversation with one of his relatives and he made certain statements to the relative that he had done something to her and that he needed to get out of here," Capt. Carl Richert of the Ashland County Sheriff's Department told the station.
Hoggard told FoxNews.com that North Carolina authorities found no trace of Jackenheimer, who was staying in a vacation rental home on the popular resort island with Summerfield and her children. After a search of the home, Hoggard said, "We found nothing to date that they sent us to look for."
Jackenheimer is described as being 5 feet, 8 inches tall and weighing 130 pounds, with brown hair and blue eyes. Summerfield is 5 feet, 11 inches tall and weighs 185 pounds. He has brown hair and green eyes, police said.
Anyone with information on Jackenheimer's disappearance is being urged to call the Ashland County Sheriff's Office Detective Bureau at 419-289-3911.
FoxNews.com's Cristina Corbin and The Associated Press contributed to this report.