Missing mom case leads FBI to Georgia landfill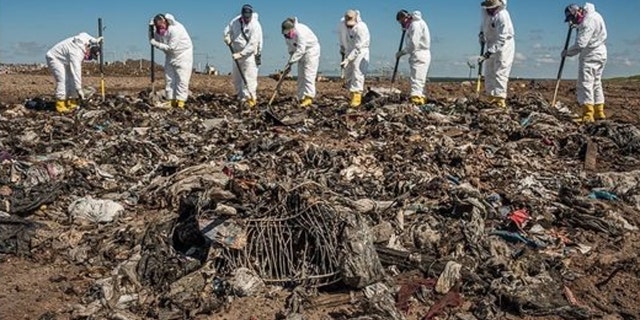 FBI agents were seen sifting through trash at a Georgia landfill for evidence in the disappearance of a missing woman who is feared dead.
Fox 30 Jacksonville obtained video of agents in white, protective gear conducting the search Saturday at the Chesser Island Landfill in Folkston with rakes and shovels. The FBI says the search could take days.
The FBI is looking for clues in the disappearance of Joleen Cummings, 34, who hasn't been seen since leaving her job at Tangles Hair Salon in Fernandina Beach, Fla., on May 12, according to the station.
"Search conditions, make no mistake, are going to be very rough," Jacksonville FBI Special Agent in Charge Charles Spencer said, the station reported. "There's going to be heat, there's going to be rain, there's going to be other issues we're going to be dealing with. Team members are trained and equipped for it."
MISSING FLORIDA HAIRSTYLIST FEARED DEAD; CO-WORKER NAMED AS SUSPECT IN DISAPPEARANCE
Investigators said they have obtained evidence that leads them to believe Cummings was murdered. Her family reported her missing after she failed to pick up her three kids on Mother's Day.
Officials have identified Kimberly Kessler as a suspect in the disappearance, the station reported. She worked with Cummings at Tangles.
Surveillance video of Kessler emptying trash into a dumpster around the time of Cummings' disappearance led deputies to the landfill, the station reported.
On May 16 Kessler was charged with stealing an SUV that belonged to Cummings, according to the station. Deputies said surveillance video showed her ditching the vehicle in Yulee, Fla., at 1 a.m. on May 13.
She remains jailed on the auto theft charge, according to reports.