Missing Maine Toddler's Granddad 'Begging' for Return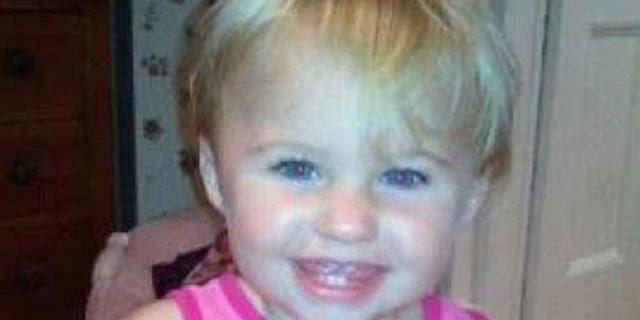 NEWYou can now listen to Fox News articles!
PORTLAND, Maine – A day after police declared a 20-month-old girl's disappearance a crime, her grandfather pleaded Saturday for her return, urging anyone with information to come forward.
"We're all out here begging and pleading for the return of our baby girl, safe and sound. Call the state police," Ronald Reynolds, grandfather of Ayla Reynolds, said outside his home.
"What did they do to my little girl? What did they do to Ayla? What did they do to a helpless defenseless child?" asked Reynolds, who wore a green ribbon, the symbol for missing children.
"Every day I get up and wait and wonder. Yesterday I kept looking out the window, waiting for someone to come by and tell me something."
Saturday marked two weeks since Ayla's father reported her missing from his home in Waterville, 75 miles north of Portland. Justin DiPietro told police he saw her the night before when he put her to bed. He said she was missing from her bed on the morning of Dec. 17.
A massive search began, with wardens and volunteers combing through the woods and neighborhoods and searching streams. Police and FBI agents went door to door.
A $30,000 reward, the largest in state history for a missing person case, has been offered for information leading authorities to the child.
On Friday, Massachusetts state police brought special equipment to DePietro's home, and crime scene technicians were seen taking measurements. Investigators concluded that a crime had taken place and the State Police Major Crimes Unit took over the investigation, Waterville Police Chief Joseph Massey said. State police reported no new developments Saturday.
Of the 500 tips submitted to investigators, Waterville police say 75 have been from psychics. Deputy Waterville Police Chief Charles Rumsey told the Central Maine Morning Sentinel of Waterville that each tip, no matter who it's from, is assigned to an investigator.
Ayla was placed in her father's care while her mother, Trista Reynolds, was in a substance abuse rehabilitation program, which she completed. Ronald Reynolds said he was proud of his daughter for seeking help.
"I know what my daughter did. She did the right thing," Reynolds said.
During Ayla's stay with her father, she broke her arm in what police described as an accident.
The Reynolds family said they were concerned about Ayla's care, and they've also criticized DiPietro for not pleading publicly for his daughter's safe return.
DiPietro, who has issued a statement denying he had anything to do with her disappearance, couldn't be reached for comment Saturday.
Reynolds said the family is trying to maintain hope that Ayla is safe and will be found. He said he wakes up every morning and kisses a photo of Ayla, praying that she's OK.
Reynolds said he sometimes spends his day looking out the window, hoping someone will drop by with new information, something positive for the family to latch onto.
"Someone took her. Somebody took her out the home. Who is what's I'd like to know," he said.
"I beg of these people: Bring her home safe. Bring her home safe and sound."