Missing female Pennsylvania high school student, 16, still on lam with 45-year-old man, officials say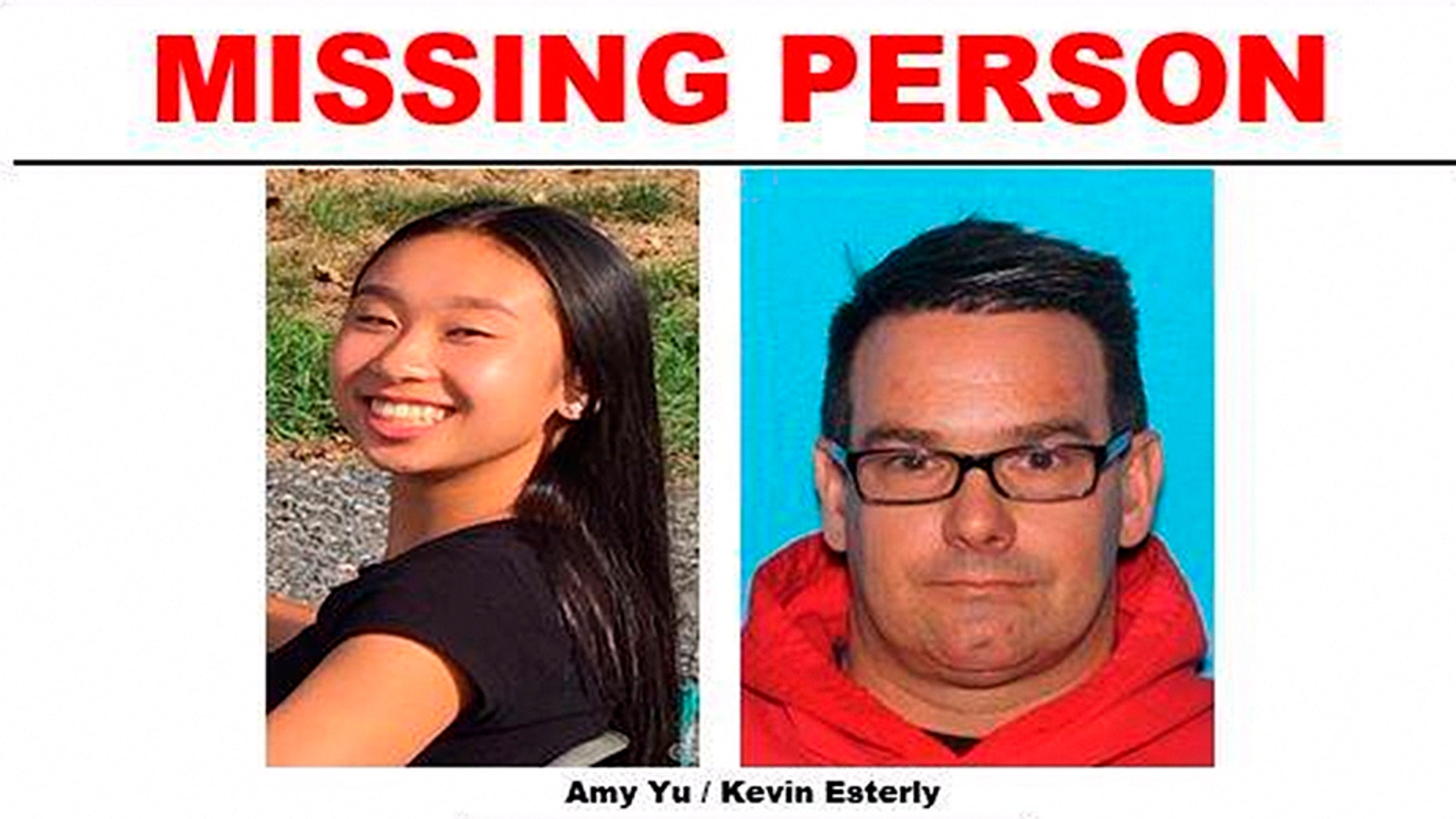 The Department of Homeland Security this week joined the desperate search for a Pennsylvania teenager and the 45-year-old man she disappeared with more than a week ago.
Amy Yu, who turned 16 in December, was last seen in Allentown, Pa., a week ago and is believed to be with Kevin Esterly, the father of one of her friends and the man police say she had a secret relationship with.
The search for Yu and Esterly entered its eighth day Tuesday.
Allentown police said on Monday they believe the two are aware that authorities are searching for them.
Esterly signed out Yu from Lehigh Valley Academy 10 times between Nov. 12 and Feb. 9 without her parents' permission, authorities said. He was able to do this because the girl had altered her student records to list Esterly as her stepfather.
Gary Hammer, of the Colonial Regional Police, told ABC news the girl's mother arrived to pick her up on Feb. 9 and school workers said she'd left with her stepfather. The shocked woman told them she's a single mother.
The day of her disappearance, the teen's mother Mul Luu told authorities she returned home to discover her daughter's passport was missing, along with cash.
Esterly's wife told authorities that he had withdrawn $4,000 from her bank account and taken personal documents.
Yu's younger brother told reporters his sister met Esterly at church several years ago.
The family said they felt betrayed by Esterly, who they had previously invited over for dinner.
"Now, I think that he's a very bad guy and Amy's not hanging out with the right person," he said, according to WFMZ.
Authorities have said it doesn't appear the teenager was taken against her will, but there is a warrant out for Esterly's arrest.
The two are suspected of traveling in Esterly's red Honda Accord, which has Pennsylvania plates.
"I want to tell her – Amy, can you come back to me? I love you. I just hope you come back," Luu said on "CBS This Morning."
Anyone who sees the car, or either Amy Yu or Kevin Esterly, is encouraged to call Allentown police at 610-437-7753.