Minnesota woman sought in death of husband and Florida woman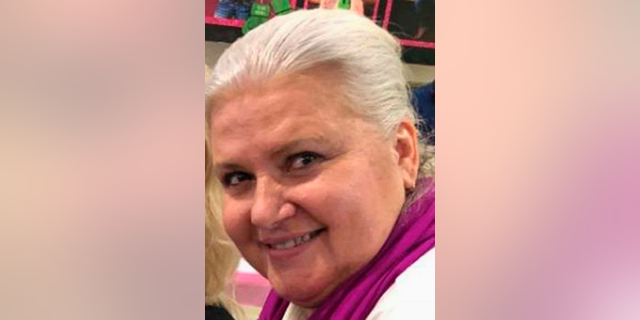 MINNEAPOLIS – A Minnesota woman who is wanted in connection with her husband's death is now charged with killing a Florida woman who resembled her, then stealing the woman's identity as she eluded authorities, officials said Friday.
Lois Riess, 56, of Blooming Prairie, Minnesota, has been charged in the shooting death of Pamela Hutchinson, 59, of Bradenton, Florida. Authorities were called to an area of Fort Myers Beach on Monday and found Hutchinson dead, with gunshot wounds.
Authorities aren't aware of any connection between the two women, but they believe Riess shot and killed Hutchinson to assume her identity.
"Ms. Hutchinson's purse was found to be in disarray and all cash, credit cards and identification appeared to be removed," Lee County Undersheriff Carmine Marceno said, adding: "Further investigation revealed that Ms. Hutchinson was targeted by the suspect due to the similarities in their appearance."
Riess is believed to be driving Hutchinson's car, a white Acura TL with Florida license plate Y37TAA. The car has been seen in Louisiana and Corpus Christi, Texas, since Hutchinson died. Riess' 2005 white Cadillac Escalade was found abandoned in a Florida park.
Riess is wanted in Florida for murder, grand theft of a motor vehicle and grand theft and criminal use of personal identification. Her current whereabouts are unknown.
"Riess's mode of operation is to befriend women who resemble her and steal their identity," Marceno said. "U.S. Marshals are actively involved in a national search for this dangerous fugitive. Riess is considered armed and dangerous and should not be approached if located."
Riess is also wanted in the March death of her husband, David Riess. Prosecutors are preparing second-degree murder charges in that case. Minnesota's Dodge County Sheriff Scott Rose said Friday that authorities believe the same gun was used in both killings.
Anyone who sees Reiss is urged to call 911, and anyone with information on her whereabouts is urged to call the Minnesota Bureau of Criminal Apprehension or Florida authorities.
Riess has been on the run since at least late March, after David Riess's business partner called Dodge County authorities on March 23 to ask them to check on him. The partner said no one at work had seen David Riess in over two weeks.
Authorities found David Riess's body inside his home with multiple gunshots. They couldn't determine how long he had been dead, and investigators could not find his wife.
During the investigation, authorities learned that Lois Riess may have been at Diamond Jo Casino in Iowa. Authorities from Dodge County, the BCA and the Iowa Division of Criminal Investigation went to the casino, but Riess had already left. Authorities later learned she was in south Florida.
__
This story has been corrected to fix the name of the casino to Diamond Jo Casino, instead of Diamond Joe Casino.
__
Follow Amy Forliti on Twitter: http://www.twitter.com/amyforliti . More of her work at: https://apnews.com/search/amy%20forliti