Military planning to spend billions on new Air Force One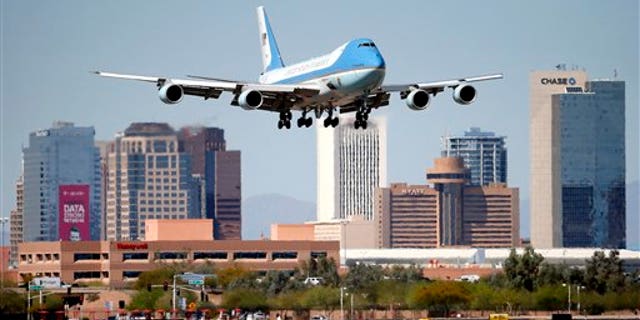 The Pentagon is considering spending billions of dollars on three new Boeing 747s to use as Air Force One, the aircraft that shuttles the United States president.
According to CBS News, the current Air Force One fleet is getting old, and the U.S. military says it's time for a new generation to carry future commanders in chief.
"We've got a pretty good size team working on it," said Air Force Col. Amy McCain, who is in charge of ordering the new Air Force One, according to the station.
"It's actually cheaper in the long run to replace it."
McCain's team has grown to 80 people from 20 in the past year. The team is expected to swell to 100 shortly.
Budget paperwork shows the military requested from Congress $102 million this year to buy the planes, with the numbers growing to more than $3 billion over the next five years. Those numbers do not include the final three years of the project, CBS reported.
Questions linger as to whether taxpayers can afford to buy a new presidential plane.
"The current airplane was fielded in 1991," McCain said. "It's the only 747-200 left in the United States that is flying. So it costs a lot more time and money to keep that airplane flying than it used to. It's actually cheaper in the long run to replace it."
"The top priority is an affordable aircraft that will meet the presidential requirements," McCain said. "We're buying up to three. It depends on all the availability of having two airplanes available for the president at any one time."
The Air Force expects to ink its first contract with Boeing sometime in 2015 for the next Air Force One, and wants to have the new 747s flying the president in 2023.