Michigan woman believed to be oldest veteran dies at age 110, month after meeting Obama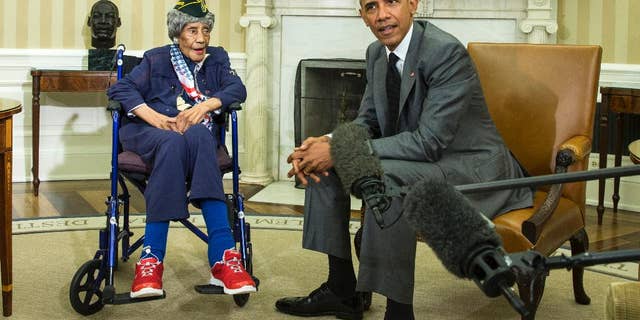 WEST BLOOMFIELD, Mich. – A Michigan woman who was believed to be the nation's oldest veteran at 110 has died a month after meeting President Barack Obama in the Oval Office.
The Oakland County medical examiner's office says Emma Didlake died Sunday in West Bloomfield, northwest of Detroit.
Didlake was a 38-year-old wife and mother of five when she signed up in 1943 for the Women's Army Auxiliary Corps. She served about seven months stateside during the war, as a private and driver.
She was born in Alabama. She moved with her family to Detroit in 1944.
Obama said Monday in a statement that "Didlake served her country with distinction and honor, a true trailblazer for generations of Americans who have sacrificed so much for their country."