Michigan police say 6 dead in random shooting spree, suspect arrested
The accused gunman who police say killed six people and wounded two others during a rampage in Michigan on Saturday night is a married father of two who was working as an Uber driver, USA Today reported.

Jason Dalton, 45, passed a background check when he was hired by Uber, the company told the paper. Dalton had no criminal record and only five traffic violations, police said.
A Michigan prosecutor said authorities were investigating a Facebook post that indicated Dalton picked up Uber customers around the time of the shootings. Kalamazoo County Prosecutor Jeff Getting says he was aware of the post, but was not prepared to discuss it.
Dalton lived just outside Kalamazoo, where the shootings occurred, in a ranch-style house with his wife of at least 15 years and two children, ages 10 and 15, according to USA Today.
Department of Public Safety Chief Jeff Hadley said investigators contacted Dalton's wife Saturday evening "to make sure she wasn't a victim." Hadley added that she's cooperated with police in their investigation.
Law enforcement sources told WMMT-TV that Dalton was arrested without incident early Sunday morning in downtown Kalamazoo following a massive manhunt.
Four people were killed and a 14-year-old girl was wounded outside a Cracker Barrel restaurant and a father and son were killed outside a Kia dealership, Kalamazoo County Undersheriff Paul Matyas said. A woman shot outside an apartment complex was in serious condition as of early Sunday, Matyas said. The 14-year-old girl was in critical condition.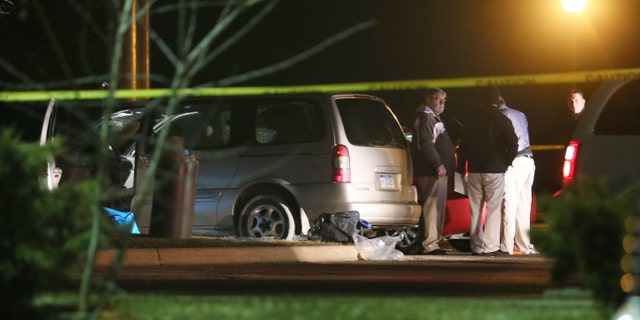 Matyas said earlier that authorities did not believe the shootings were targeted at specific people, describing them as "our worst-case scenario."
"These are random murders," he said.
He described a terrifying rampage that began about 6 p.m. in the parking lot of the apartment complex in Richland Township on the eastern edge of the Kalamazoo County, where the woman was shot and seriously wounded.
The suspect was arrested about 12:40 a.m., authorities said. Matyas told WWMT-TV that the man did not resist when approached by law enforcement officers, and that weapons were found in his vehicle.
"The threat to the public is over," Matyas said.
Michigan State Police Lt. Dale Hinz called the shooting spree "incomprehensible," according to Fox 17 Online.
Kalamazoo, with a population of about 75,000, is about 160 miles west of Detroit. It is home to Western Michigan University and the headquarters of popular craft beer maker Bell's Brewery. The city also is known for the anonymously funded Kalamazoo Promise program, which has paid college tuition of students who graduate from Kalamazoo Public Schools for more than a decade.
The Associated Press contributed to this report.