Mexican Mafia run jail crime like an 'illegal government'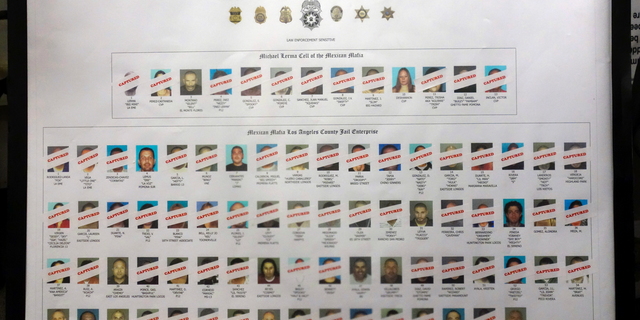 NEWYou can now listen to Fox News articles!
LOS ANGELES – The Los Angeles jails are run by the county sheriff, but the Mexican Mafia wielded the power in the underworld behind bars.
Authorities say they diminished the influence of the organization made up of leaders from various Latino gangs.
Federal officials announced charges Wednesday against 83 members of the gang and their associates. They face federal racketeering conspiracy charges that allege drug dealing, extortion, violent assaults and even murders.
In an effort to disrupt the gang's stronghold, authorities say the suspects will be held in federal facilities, and those already in custody in state prisons will be moved.
The gang collected "taxes" on smuggled drugs, ordered hits on people who didn't follow their rules and even called shots on street crimes.