Mexican drug lord 'Chapo' Guzman's trial in US set to begin in April 2018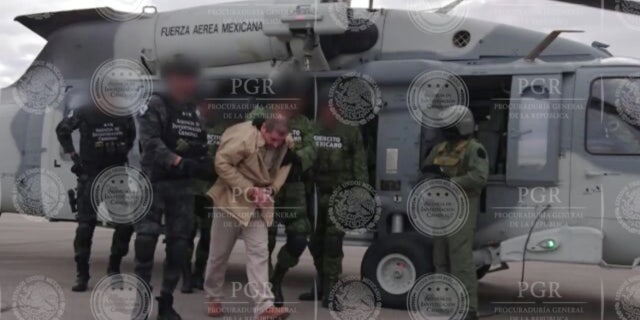 A U.S. judge on Friday set an April 2018 trial date for Mexican drug lord Joaquin "El Chapo" Guzman, who faces a 17-count indictment that includes multiple murders and kidnappings during the 25 years he oversaw the multibillion-dollar Sinaloa cartel.
District Judge Brian Cogan set the tentative trial start date for April 16.
As Guzman, 60, entered the packed courtroom, he nodded toward his wife, a former beauty queen who smiled and waved to him from her seat among spectators.
Throughout an hourlong hearing, the couple met eyes repeatedly as his wife leaned forward from a wooden bench.
The short, stocky Guzman listened to a Spanish translation of the proceeding through a headphone dangling from one ear.
Guzman faced Judge Cogan a day after he denied the drug lord's request to be allowed in the general inmate population.
In a written ruling, Cogan ruled solitary confinement is appropriate for him until the day of his trial, but agreed to relax the restrictions concerning the communication with his wife. Guzman will now be allowed to send her letters that will be scrutinized in search of any possible code or hidden directives to his lieutenants outside.
"We're extremely disappointed that Mr. Guzman and his wife will not be able to see or speak to each other," Michelle Gelernt, one of Guzman's lawyers, said in an email. "This is devastating news for both of them."
Cogan said the U.S. government had good justifications for applying tough jail conditions on a man who escaped twice, including once through a mile-long tunnel stretching from the shower in his cell.
US HAS NOT FOUND 'ONE DOLLAR' OF DRUG LORD EL CHAPO'S ASSETS, MEXICAN AG SAYS
Guzman is restricted to his cell for 23 hours a day, with the lights on at all times, and has not been allowed any visitors other than lawyers.
He was extradited to the U.S. in January.
AP and Reuters contributed to this report.