Mexican drug cartel members busted smuggling $1M of meth in genitalia-shaped candles, officials say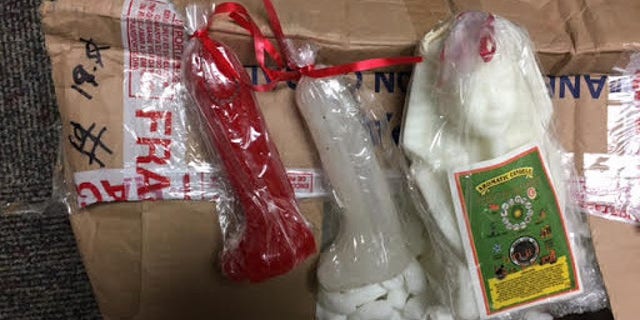 NEWYou can now listen to Fox News articles!
Alleged members of a Mexican drug cartel were busted Tuesday trying to smuggle $1 million worth of methamphetamine into New York and New Jersey -- by concealing it in genitalia-shaped candles.
Five suspects were arrested when undercover Drug Enforcement Agency agents allegedly tricked drug traffickers into delivering 1,300 pounds of candles full of drugs to a warehouse in Paterson, N.J. Some of the candles were phallic-shaped while others had religious themes, officials said.
"DEA has seen drugs smuggled in numerous ways: concealed in puppies, lollipops, furniture, and produce," DEA Special Agent-in-Charge James Hunt said. "But secreting a million dollars worth of methamphetamine in wax candles of various shapes is shocking. This seizure signifies that drug trafficking organizations are determined to create a stronghold of meth users in the Northeast."
METH FOUND ON LUNCH MONEY LEADS TO WOMAN'S ARREST
Authorities learned about a large incoming shipment of meth after an undercover DEA agent met with one of the suspects, Agustin Zamora Vega, 30. The meeting was held at hotel in Manhattan for the purpose of discussing storage locations and crystal meth-making facilities, officials said.
They later looked at an apartment in Yonkers, N.Y., and the New Jersey warehouse where the bust occurred.
MEXICAN POLICE TRADE GUNS FOR GUITARS IN HOPE THAT MARIACHI RESTORES PUBLIC TRUST
The so-called 'meth candles' came into Long Island on Tuesday, packed into 27 cardboard boxes, officials said. According to a press release, the suspects planned to stay in the warehouse until the methamphetamine could be converted into crystal meth.
The 1,300 pounds of wax candles would have yielded a total of 60 kilos of crystal meth, according to the New York Post.