Memorial held for mother of Newtown gunman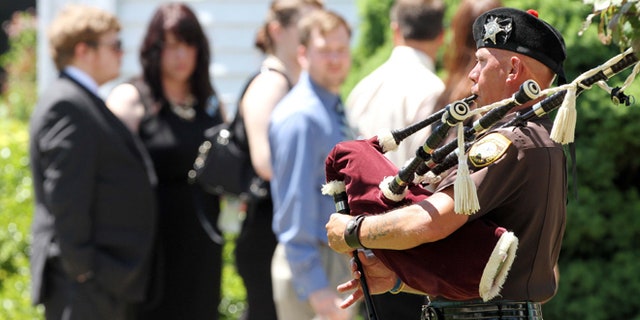 NEWYou can now listen to Fox News articles!
KINGSTON, N.H. – More than 100 family and friends gathered at a church Saturday to remember the woman whose son massacred 20 first-graders and six educators in a Connecticut elementary school last year.
The service was held at the First Congregational Church in Kingston, where Nancy Lanza once lived. Police Chief Donald Briggs had said only friends and family were invited.
She was the first victim of her 20-year-old son Adam's Dec. 14 rampage, shot dead in their home before he blasted his way into Sandy Hook Elementary School in Newtown. He killed himself as police closed in.
Mourners lined up in 92-degree heat to enter the church and a few of them cried upon exiting. A police officer played the bagpipes outside.
Friends have said Nancy Lanza loved the Red Sox and gardening and talked of a growing enthusiasm for target shooting. The rifle and two handguns Adam Lanza took into Sandy Hook were registered to her.
But friends said she never talked about her home life, keeping details about her son private. She occasionally said she was concerned about the future, but she didn't complain.
Nancy Lanza told a divorce mediator in 2009 that she didn't like to leave her son alone. People who met him described him as shy and introverted. The mediator recalled that Nancy and Peter, who had married in June 1981 in Kingston but divorced several years ago, were respectful of each other and concerned about Adam's needs. He'd switched schools several times and Nancy had tried home schooling.
The head of security for the district where Adam Lanza attended high school said Nancy Lanza often had to come to school to deal with him when he had episodes of anxiety or withdrawing from others.
The motive for her son's killing spree is still unclear. Investigators have said mother and son visited shooting ranges together, and the victims killed at the school were all shot with a Bushmaster semi-automatic rifle that Adam Lanza took from the house he and his mother shared. That gun and the handgun he used to shoot himself had been legally purchased by his mother.
The massacre has revived the national gun control debate and led to proposals for universal background checks on gun buyers and bans on assault weapons and high-capacity ammunition magazines.
The Newtown massacre was the second-worst school shooting in U.S. history after the 2007 Virginia Tech rampage, which left 33 people dead.
Adam Lanza's father claimed his remains and a family spokesman said there were private arrangements, but the burial location was not made public.
A private funeral attended by about 25 people was held for her in Kingston on Dec. 20, less than a week after her son's rampage.