Melania Trump feeds baby elephants, dances with children on Africa trip
Everywhere she has visited during her trip across Africa this week, first lady Melania Trump has cradled infants and held children. But on Friday she spent time feeding other young creatures: baby elephants.
It is Trump's first time in Africa – visiting four countries in five days – and her first solo international trip as the first lady. The mother of a 12-year-old son, the crux of Trump's trip is focused on schools, hospitals and orphanages while she focuses on the wellbeing of children.
Trump arrived in Kenya on Friday, the second-to-last country on her swing across the continent. She opened this portion of her visit with a safari in the Nairobi National Park, an activity that allowed her to highlight wildlife conservation efforts in the region.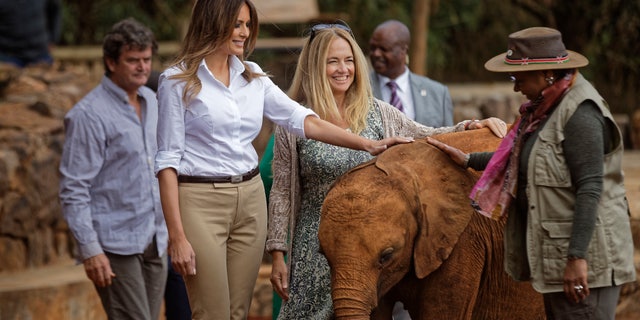 The first lady spent time with a herd of elephants in the park and fed formula to two that are being raised at the park. She reached out to others, patting one's back and stroking the ear of another.
At least one baby elephant got a little too rowdy and caused a U.S. Secret Service agent to step in and hold the first lady back, Kenyan newspaper The Star reported.
MELANIA TRUMP VISITS FORMER SLAVE FACILITY ON AFRICA TRIP: 'I WILL NEVER FORGET THE STORIES'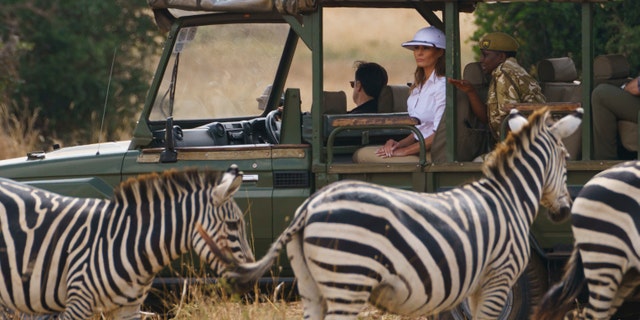 During the safari, she took photos on her iPhone and peered through binoculars for a closer look at zebras, giraffes, impalas, hippos and rhinos. She also saw a site where 105 tons of ivory was burned as part of an effort to discourage the trade.
After, Trump visited the Nest Orphanage in Limuru, Kenya – and danced with the children while there.
"Thank you for what you do and taking care of them," Trump told the orphanage's staff after learning more about the facility and the circumstances that brought many of the young children and babies to it.
Trump took the time to read a story to a group of children before a young boy read a story to her in turn. Then she was encircled by a group of singing kids and danced with them.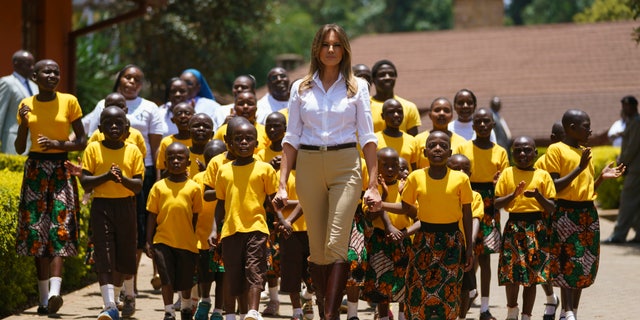 MELANIA TRUMP CONTINUES AFRICA TRIP WITH STOP AT MALAWI SCHOOL
Kenyan first lady Margaret Kenyatta accompanied Trump on the safari, and the pair is expected to take in a traditional performance later Friday.
Trump first visited Ghana on her trip, touring a hospital and former slave holding facility. She later traveled to Malawi where she took in a school lesson with children.
The final stop on her tour will be Egypt.
MELANIA TRUMP ARRIVES IN GHANA FOR FIRST SOLO INTERNATIONAL TRIP AS FIRST LADY
On her trip, Trump has promoted the advocacy initiative "Be Best," which she launched earlier this year. As she says, the campaign is "shining a spotlight on successful programs and organizations that teach children tools and skills."
President Trump has praised his wife's work on social media, saying she is "doing really well in Africa."
"The people love her, and she loves them! It is a beautiful thing to see," the president said.
Trump joins other first ladies – including Laura Bush, Hillary Clinton and Michelle Obama – in embarking on solo trips to Africa.
Fox News' Paul Tilsley and The Associated Press contributed to this report.