Medal of Honor Recipient Eyes New (and Only Slightly Less Dangerous) Career as Firefighter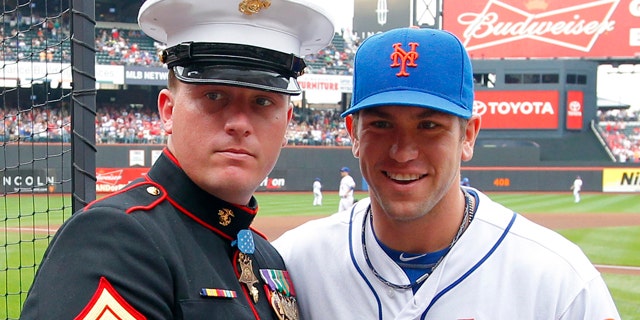 NEWYou can now listen to Fox News articles!
One of the country's bravest hopes to become one of New York City's bravest.
Sgt. Dakota Meyer, the Marine who received the Medal of Honor this month for personally rescuing 36 soldiers pinned down by Taliban fighters in Afghanistan, told the New York Post that he aspires to become a New York City firefighter.
"It's something I've always wanted to do. It's a way I feel I can do my part in giving back to America," Meyer said after he tossed out a ceremonial pitch at the Mets' Citi Field, the paper reported.
Meyer's grandfather was a firefighter, and Meyer also said he was inspired by the sacrifices made by New York firefighters on 9/11.
Meyer, 23, of Columbia, Ky., ran into a setback when he learned that the deadline to join the New York Fire Department had passed and he'd have to wait four years before he could apply again, the Post reports.
Brooklyn federal Judge Nicholas Garaufis on Monday granted a request from Meyer for an extension to apply for the entrance exam, "in view of [his] recognized and truly exceptional military service," according to the newspaper. Garaufis, however, rejected a broader request from city officials for permission to re-open its books for aspiring firefighters -- making Meyer the only exception.
Meyer's lawyer, Keith Sullivan, reportedly told the newspaper that the Congressional Medal of Honor winner "greatly appreciates all the support he has received from the residents of New York, but he does not feel he's entitled to an exception."