Mauled New York man: I wanted to be one with the tiger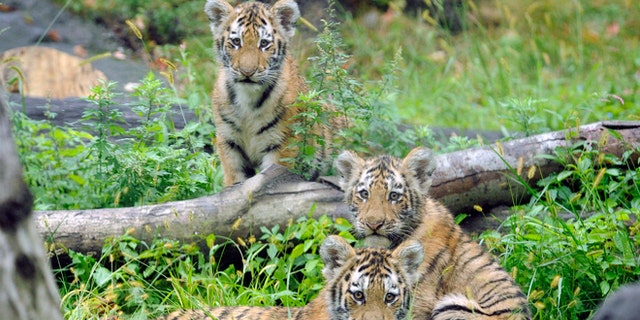 NEW YORK – Before his now-infamous tangle with a Bronx Zoo tiger, David Villalobos adorned his Facebook page with New Age odes to Mother Earth and affirmations like, "Be love and fearless."
Police said Saturday that Villalobos had told detectives that it was without fear that he leaped from an elevated train into the animal's den. His reason, they said, was that "he wanted to be one with the tiger."
Villalobos also recounted how, after he landed on all fours, the 400-pound beast attacked him and dragged around by his foot, said New York Police Department spokesman Paul Browne. Despite serious injuries, he claimed he was able to get his wish and pet the tiger -- a male Siberian named Bashuta -- before his rescue, the spokesman added.
Based on those admissions and a complaint from the zoo, police were planning to arrest the hospitalized Villalobos on trespassing charges, Browne said. It was unclear when that would happen or if the 25-year-old real estate agent had an attorney; attempts to reach relatives on Saturday were unsuccessful.
Villalobos' big-cat exploits Friday afternoon were an instant tabloid sensation: A front page New York Post story on Saturday was headlined "MAULED!" The Daily News countered with "ZOO-ICIDE," speculating a death wish.
Police had said earlier that Villalobos admitted to a police officer at the scene that he made a conscious decision to jump -- "Everyone has a reason for what they do in life," he was quoted as saying -- but that his motives were murky and an arrest uncertain.
That changed when, during a follow-up interview Saturday, Villalobos told detectives that "his leap was definitely not a suicide attempt, but a desire to be one with the tiger," Browne said.
Villalobos remained hospitalized with bites and punctures on his arms, legs, shoulders and back, and a broken arm and a leg caused by the jump.
The Wild Asia exhibit that's home to the tiger was operating as usual on Saturday, zoo officials said, declining to comment further.
Villalobos' Facebook page makes clear his infatuation with wildlife. One of several postings from Thursday was a photo of a tiger licking a cub, and the comment, "Nice." Another was of a black jaguar.
An earlier post displayed a promo for a movie called "Facing Animals," a Dutch documentary about "the complex and often bizarre relationship between man and animal."
His comment: "This looks fascinating."
Villalobos' own bizarre encounter began with a ride on the elevated train that takes unrestrained visitors over the Bronx River and through a forest, where they glide along the top edge of a fence past elephants, deer and a tiger enclosure. He and a date had taken in the same sights from the monorail during a visit to the zoo about two weeks ago, police said Saturday.
This time without warning, Villalobos apparently jumped out of his train car and cleared the 16-foot-high perimeter fence. He was alone with Bashuta for about 10 minutes before he was rescued by zoo officials, who used a fire extinguisher to chase the animal away.
The zookeepers instructed to roll under an electrified wire to get to safety, Breheny said. They then called the tiger into a holding area.
The Bronx Zoo, one of the nation's largest zoos, sprawls over 265 acres and contains hundreds of animals, many in habitats meant to resemble natural settings. Its exhibits include Tiger Mountain, Congo Gorilla Forest and World of Reptiles.
There are 10 tigers at the Wild Asia exhibit, but the 11-year-old Bashuta was the only one on display at the time. Zoo officials said he would remain in the rotation.
"When someone is determined to do something harmful to themselves, it's very hard to stop that," said zoo director Jim Breheny. "The tiger did nothing wrong."