Match made in hell: SoCal terrorists likely forged bond in online jihadist forums
The online romance between Southern California terrorists Farook Rizwan Syed and Tashfeen Malik was more a meeting of like minds than lonely hearts, with two radical jihadists forming a bond of hate and bloodlust in the dark recesses of the Internet.
Family members have said Syed, 28, and Malik, 29, met online and embarked on a whirlwind digital relationship capped by their 2014 marriage. But if they did, it was not on any dating site resembling those that bring people together every day in the civilized world. Their meeting brought together two already-radicalized soulmates who would go on to kill 14 people and wound 21 more in last week's massacre at a San Bernardino social services facility
"They were actually radicalized before they started [dating online]," FBI Director James Comey told lawmakers Wednesday. "As early as the end of 2013 they were talking about jihad and martyrdom, before they became engaged."
"As early as the end of 2013 they were talking about jihad and martyrdom, before they became engaged."
Farook seemingly set up several profiles years ago in his search for a wife – reportedly using sites like Dubaimatrimonial.com, BestMuslim.com and iMilap.com, which is an Indian-centered matrimonial and dating site "for people with disabilities and remarriage.
A spokesperson for iMilap.com confirmed to FoxNews.com that while Farook has an inactive profile not in public view, Malik never belonged to the site and they have no history of any such name or details. In his profiles, Farook described himself as a "devout" Muslim and added that he spends "much free time in the [mosque] memorizing the Quran and learning more about the religion."
As for Malik, she was an online ghost, and experts said absent her participation in hardcore jihadist chat forums or use of a pseudonym, it is unlikely that she met Farook innocently.
With authorities trying to uncover the origins of their relationship and trying to trace a digital trail the pair tried to destroy, the FBI has revealed that Farook was at least "in contact" with international terrorist organizations, including Al Qaeda. Law enforcement authorities told Fox News this week there is a high certainty Malik was "an operative" of some description.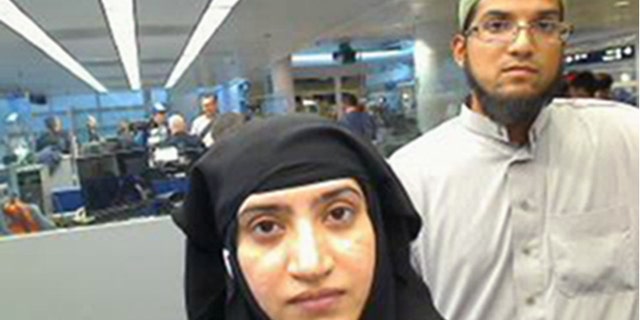 Malik was born in Pakistan, while Farook was an American citizen of Pakistani descent. Several Pakistani community leaders in Southern California called it "highly unusual and rare" in their culture for a wife to be older than her husband, even if by only a year. Malik, they added, did not fit the typical portrait of a young woman simply seeking a partner. Yet family members and co-workers say Farook traveled to Saudi Arabia in July of 2014 and "returned with a wife" that no U.S. relatives claim to have previously known. Authorities told Fox News it is extremely unusual for a Pakistani woman, especially from a conservative Islamic home, to travel overseas on a fiance visa - unless it was part of a plan.
Ten months after their marriage, the couple welcomed a baby daughter.
Even before they met, Malik was crafting a low-profile, casting further skepticism on the notion she was actively seeking a husband through traditional matchmaking websites, or the pretense in which she was looking for a spouse.
Friends who knew Malik at Bahauddin Zakariya University in Multan, Pakistan, where she studied pharmacology from 2007 to 2012, told the Washington Post that in 2009, she started adopting a militant and strict adherence to religion, refusing to be photographed and deleting existing photographs in the university database.
After coming to the U.S., Malik chose not to drive, kept her face hidden with only eyes exposed, and did not socialize with the larger Muslim community. Citing religious tradition, Farook family lawyers said Syed did "not want others to talk" to Malik, and associates recall Farook clamming up whenever his spouse came up in conversation.
Only two photographs of Malik in the U.S have surfaced, one from a surveillance video at Chicago's O'Hare Airport. Neighbors barely recall seeing her, let alone meeting her and she is not known to have joined her husband at the local mosque. When Farook's co-workers, who would later become his victims, threw the couple a baby shower after his daughter was born in May, Malik did not attend.
Farook and Malik both pledged their allegiance to ISIS using a Facebook alias as the Dec. 2 attack began, but later tried to erase that and other elements of their online presence in the hours between the attack and their deaths in a shootout with police.
Federal investigators are now poring over two hard drives found at their Redlands home, including one which sources said was "smashed pretty well." Two damaged cell phones found in trash cans near the home may also yield clues. So far, recovered data indicates Farook expressed support for Muslim Brotherhood and Hamas and an abiding hatred of Israel.
However they met and whomever may have brought them together, the picture that is now emerging is one of two hardcore radicals brought together by their mutual desire to kill in the name of radical Islam. Given their movements once together in the U.S., and the arsenal of weapons, ammunition and bombs they accumulated in their home, it seems clear that everything they did was in preparation for the carnage they wrought last week.
"There is no doubt Malik was a committed jihadi, whether she was actually under the direction of anyone, or simply received encouragement from radicals remains to be seen," said Del Wilber, a former U.S. intelligence operative and current military counter-terrorism trainer. "Were they possibly trying to build some sort of 'cover' bona fides? Perhaps."
Fox News Channel's Adam Housley contributed to this report