Massive Winter Storm Creates Dangerous Conditions from Texas to New England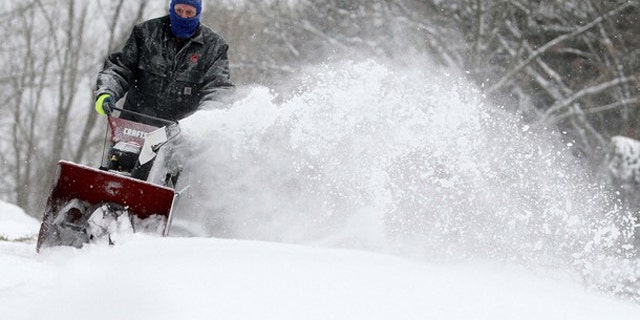 NEWYou can now listen to Fox News articles!
Layers of dangerous ice and blowing snow closed roads and airports from Texas to Rhode Island on Tuesday as a monster storm began bearing down on the nation and those in its frigid path started to believe it would live up to its hype.
The storm's more than 2,000-mile reach threatened to leave about a third of the nation covered in a hodge-podge of harsh weather. Ice fell first and was expected to be followed by up to two feet of snow in some places.
Storm-battered New England towns feared they wouldn't have anywhere to put it.
Making matters worse was the expectation of brutal cold and winds gusting to near 60 mph.
As truck driver David Peck waited outside to deliver food to a Missouri restaurant whose owners were nowhere to be seen, he implored his boss on the other end of the phone to shut down the route.
"By the time I go to Columbia, all hell broke loose," said Peck, 51.
"I've already fell once, right on my back," he said, standing atop an ice- and snow-covered ramp propped on the back of his truck. "There was black ice underneath the snow."
Snow and ice fell to varying degrees from Colorado to Maine, tornadoes were possible in the South, and the weather disrupted the lives of millions. Multiple airports were at least temporarily shut down due to ice, including in Dallas -- the destination for thousands trying to get to Sunday's Super Bowl.
Flight tracking service FlightAware had logged almost 6,000 cancellations by midday Tuesday. More were expected Wednesday.
White-outs paralyzed Oklahoma City and the Tulsa area, where snowpack caused the partial collapse of a roof at the Hard Rock Casino but no injuries were reported. Blowing snow created drifts up to 4 feet high and trucks, city buses, snowplows and at least one ambulance had trouble navigating the treacherous roadways.
Tulsa coffee shop owner Brian Franklin said he spent most of the morning watching people on the roads, even laughing at those trying to turn into the store's parking lot. He made it to work in his four-wheel drive Land Rover, but it was a slippery commute.
"After I got out in it, I saw a fire truck with snow chains get stuck, and I wondered if it was a good idea to be driving in this," he said.
Ice-covered roads were all but deserted in Dallas, where the few motorists who braved the unfamiliar terrain slowed to a crawl as they passed jack-knifed tractor-trailers on slick highways. But the NFL stuck to its Super Bowl schedule, holding media activities at Cowboys Stadium in suburban Arlington as planned.
Still, pedestrians struggled as they shuffled along sidewalks -- a common problem even hundreds of miles away.
"I think it's crazy the people not putting salt on the sidewalks," said Hagerstown, Md., call center worker Kelly Rataiczak, who slipped several times -- but didn't fall -- as she made her way from her overnight shift to a bus stop.
Massive amounts of ice were predicted south of St. Louis, followed by strong winds, could cause a repeat of 2006 when ice then brought down trees and transmission lines and knocked out power to hundreds of thousands of people in Missouri.
St. Louis-based utility company AmerenUE said lessons were learned. Chip Webb, superintendent of reliability support services, said the company has significantly increased efforts to trim trees near power lines, put more power lines underground and inspect and replace more aging poles.
On Tuesday Ameren had nearly 500 of its own linemen ready to go and was bringing in another 800 from as far away as Michigan.
The storm brought the potential for some strange happenings -- thundersnow, lightning, even tornadoes. Forecasters said some regions could get up to 2 inches of snow per hour through parts of Tuesday night and Wednesday morning. Blizzard warnings were in effect in much of the Midwest. Even Chicago, where snow is common, could be in for its third-worst blizzard since record-keeping began, with up to 20 inches forecast.
After burying the Midwest, the storm was expected to sweep into the Northeast, parts of which already are on track for record snowfall this winter. A winter storm warning was in effect for New York City, with forecasters predicting a mix of snow, sleet and ice. Federal workers in Washington were given the option of working from home because roads already were slippery Tuesday.
When the snow finally ends, bitter cold will set in. Temperatures in some parts of the Midwest will dip well below zero. Gusty winds will blow all of that snow. Visibility will be virtually zero at times.
In Chicago, the National Weather Service warned high winds could produce waves on Lake Michigan of up to 25 feet, leading to considerable coastal flooding and freezing spray, particularly along Lake Shore Drive. If forecasters are right, Chicago could see its third-biggest snowstorm, overshadowed only by the 21.6 inches in 1999 and the 23 inches of snow that fell in 1967.
Further west, the Iowa Department of Transportation said most roadways in the state were partially or completely covered with a combination of ice and snow. Deadly wrecks were reported in Minnesota and Kansas.
"If you don't have to travel, don't do it. If you can stay home, do it," Kansas Gov. Sam Brownback said before heading to the state's emergency operations center. "You might get in. You won't get back."
Plows and salt trucks were out in full force, just in case. The worst of the weather was still a full day away in Michigan, but 85 percent of Oakland County's fleet was already out salting roads in preparation for the "death storm," county Road Commission spokesman Craig Bryson said.
"We're trying to get hard pack off the roads before the big stuff comes," he said. Cots were set up in the commission's garages so drivers could nap between making their runs.
School districts, universities and legislatures closed. Governors in Kansas, Oklahoma, Missouri and Illinois declared emergencies, others activated the National Guard to help stranded motorists and others affected by the storm.
It wasn't just people getting ready for the weather. The Humane Society of Missouri urged people to bring pets inside. Farmers and ranchers prepared livestock.
Kevin Hafner, who works for Express Ranches' operation in El Reno, Okla., said workers prepared enough feed to last their animals for 48 hours. Workers were preparing to chop ice on ponds so the cattle will have adequate water.
"They are tough enough to handle it," Hafner said of the cattle. "They've got a good hair coat this year, but we have to have enough feed to give them energy to keep going."
Click here for more storm coverage from MyFoxChicago.com
Click here for more storm coverage from MyFoxNY.com
Click here for more storm coverage from MyFoxPhilly.com
The Associated Press contributed to this report