Massive storm leaves more than 1.5M without power in Northeast
A massive storm system packing powerful winds and drenching rains left more than 1.5 million homes and businesses without power Monday across the Northeast, forcing hundreds of schools to close.
The National Weather Service issued flash flood and high wind warnings across the region, and there were reports of downed trees and power lines, while some roads were impassible in spots due to flooding. Trees also fell onto some homes and vehicles, but no serious injuries were reported.
"Even if you're not experiencing the rain, the wind could knock you down, also it could knock down some power lines as well," Fox News Senior Meteorologist Janice Dean said Monday.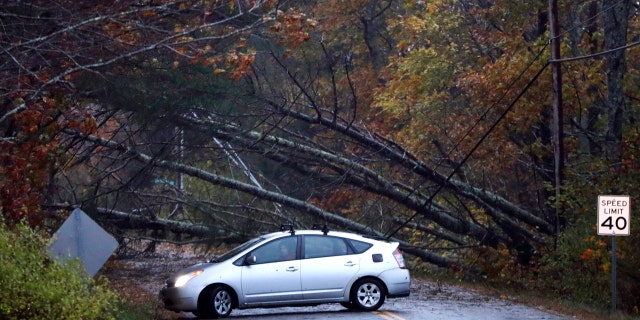 In Connecticut, more than 131,000 customers were without power, according to power company Eversource. National Grid also reported close to 300,000 customers were without power in New York state, Rhode Island and Massachusetts. Some utility companies warned customers that power could be out for a few days.
In Maine, nearly 500,000 customers were without electricity; hundreds of school districts canceled classes Monday and others delayed openings. Central Maine Power said more than 350,000 customers ─ more than half of the energy company's customer base ─ were without service, topping the the Ice Storm of 1998.
"The region is still experiencing strong winds, which create dangerous conditions for service restoration," said spokesperson Gail Rice. "Our first priority is public safety, and crews are busy grounding and de-energizing downed lines so they don't pose a danger to first responders or the public. This critical step needs to be completed before restoration can begin."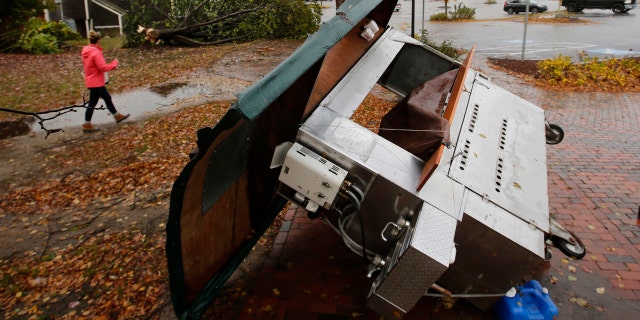 In neighboring New Hampshire, over 200,000 customers were without power.
"We need about 24 to 48 hours to really get a good handle on what the scope of the damage is," Seth Wheeler, a spokesman for New Hampshire Electric Cooperative, told WMUR-TV. "We'll be making restorations along the way, but this is going to be a multiple-day event."
"I think if you're without power at this time, you should expect to remain without power, possibly for a number of days," he added.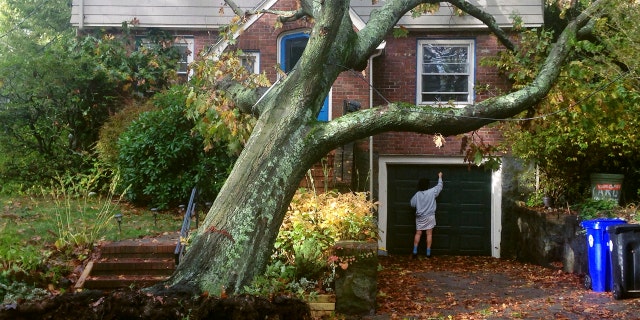 Amtrak suspended service between New Haven and Boston for several hours due to power outages across Southern New England from downed trees.
The University of Maine also warned students before going outside due to high winds.
"All on campus this am advised to use caution. Flying debris. Trees down. Power unstable. Exercise judgment before going out," the school said in a tweet.
Besides the damage from wind, the Meriden Human Society in Connecticut put out a call for volunteers on its Facebook page Sunday night to help deal with flooding in its dog kennels.
"We have been here for three hours trying to reduce the water," the group said. "The rain is picking up and it feels like we are shoveling against the tide."
A couple of hours later, the humane society thanked the volunteers who turned out to help dig a "major trench" to drain water away from the building.
"We are beyond humbled at the outpouring of support from our community," the human society wrote on its Facebook page. "Thanks to all of you, our dogs will be sleeping very comfortably and most importantly very dry! You were our hero's tonight."
The same storm system also caused problems earlier Sunday in Pennsylvania, New Jersey and New York, knocking out power and causing localized flooding.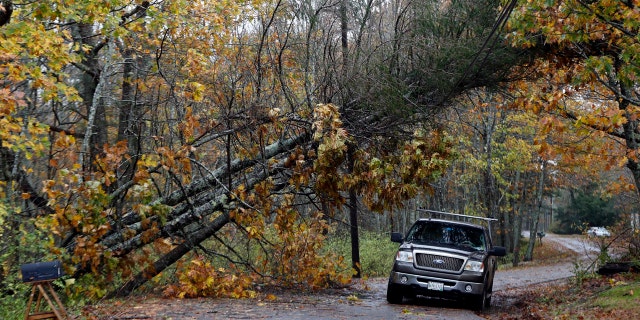 The storm began making its way up the East Coast on Sunday, which also was the fifth anniversary of Superstorm Sandy. That 2012 storm devastated the nation's most populous areas, was blamed for at least 182 deaths in the U.S. and Caribbean and more than $71 billion in damage in this country alone.
The Associated Press contributed to this report.