Massachusetts State Police colonel retires amid criticism of altered report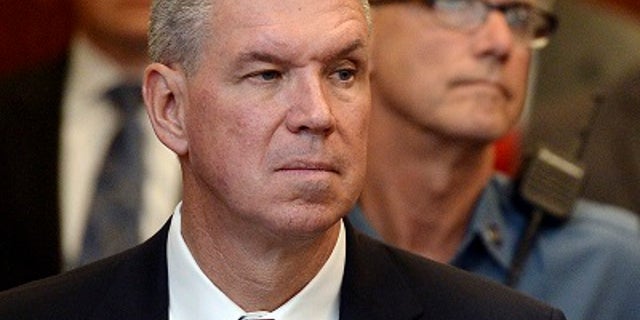 A Massachusetts State Police colonel abruptly retired Friday amid accusations a trooper was forced to alter an arrest record for a judge's daughter to avoid embarrassing them.
Colonel Richard McKeon retired after 35 years on the force, FOX 25 Boston reported.
His retirement was announced a day after Massachusetts Gov. Charlie Baker said he was investigating the allegations.
Trooper Ryan Sceviour, 29, said in a federal lawsuit filed this week that he was ordered to remove embarrassing information about Allie Bibaud, the daughter of Dudley District Court Judge Timothy Bibaud,who allegedly failed sobriety tests and indicated she was a heroin addict.
Sceviour did not say McKeon directly ordered him to change the report.
The judge's daughter was arrested on Oct. 16 after she allegedly swerved into a police construction detail on I-190 in Worcester.
MASS. STATE TROOPER CLAIMS HE WAS FORCED TO CHANGE DUI ARREST RECORD FOR JUDGE'S DAUGHTER
During her arrest, Bibaud allegedly said: "My dad's a [expletive] judge. He's going to kill me," along with comments seemingly suggesting she would swap sexual favors for leniency.
Another trooper, Ali Rei, has also hired a lawyer and claimed she was also forced to edit the report. Rei said a police major pushed her to destroy a log entry.
"They have impaired his reputation. People hear his name, 'isn't that guy who faked the report. Isn't that the guy who covered up for the judge?'" Lenny Kesten, an attorney, told FOX 25 Boston.
State police admitted the trooper was asked to alter the report and have defended the action, saying he included information that wasn't relevant to her arrest.
WOMAN WHO LIVED WITH SISTER'S BODY ASKS TO DEMOLISH HOME
McKeon said in a letter to Public Safety Secretary Daniel Bennett on Friday that he often instructed subordinates "to focus the arrest report on information relevant to charges made against the individual."
McKeon said in his retirement announcement that the past few days were "difficult" for him and the police force.
"We have always been highly scrutinized for how we perform our duties, as any police agency should be, and these last few days have been no exception. That public examination, while sometimes uncomfortable, comes with the great authority bestowed upon us, and we must always pay attention to how we are perceived by those whom we serve and protect," McKeon wrote.
The Associated Press contributed to this report.